In the heart of the valley of Loir discover the beautiful city of la Flèche and the lakes, the charming little towns and the medieval castle surrounding it. Treat yourself to a 2-day countryside getaway in the heart of orchards and discover the generous local cuisine. Do not miss the zoo, one of the best parks in France.
Day 1

You wind through the marsh, which offers a diversity of landscapes: reed beds, wet meadows crossed by a network of canals etc. You may be able to observe some of the 150 species of birds as well as the small grazing horses.
Do not miss the beautiful medieval castle of Bazouges-sur-le-Loir with its Italian gardens.

Day 2

Ride along the Loir valley and the beautiful lakes of La Monnerie where you could enjoy bulerous nautical activities. Reach the charming small town Luché-Prigné, nestled between hills and the Loir river. Continue your bike ride through the countryside to Château de Créans, built during medieval times to control the Loir river. You can still admire its moat and a massive tower, turned into a dovecote in the 15th century.

La Flèche zoo

4h

Included
Bikes
On your arrival day, we provide you with:
a touring bike adjusted to your size or a tandem
equipped : front rack pack with an integrated file compartment, saddlebag, helmet (on demand), reflective vest, repairing toolkit with patches etc.
We also provide you with the appropriate equipment for your children :
baby seat, bike trailer or trailer bike depending on their age and size
.
Electric bikes are also available for adults.


GPS tracks
For this trip, we also provide the GPS tracks on demand in the .gpx format at no extra cost.

Travel documents
For this short trip your travel documents will be sent electronically.


A cycling holiday is the best way to explore a region and discover its culture, landscapes and local traditions.
Your tour is self-guided to give you the freedom to ride at your own pace. You will be provided all the information you need to enjoy peacefully the itinerary and its interesting sites.
You will have in your travel documents :
a detailed map (A4 format) of the itinerary that we drew at the easiest scale to follow for a bicycle rider

a step-by-step description of the itinerary giving the direction to follow at each intersection
a tourist leaflet containing a brief presentation and useful practical information (opening time, price, contact) about the points of interest along the way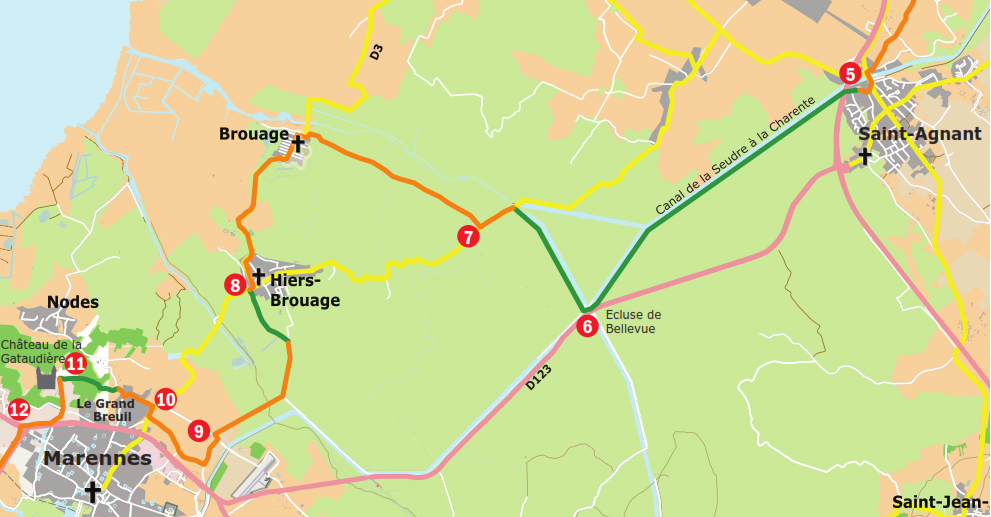 Example of a map and a step-by-step description