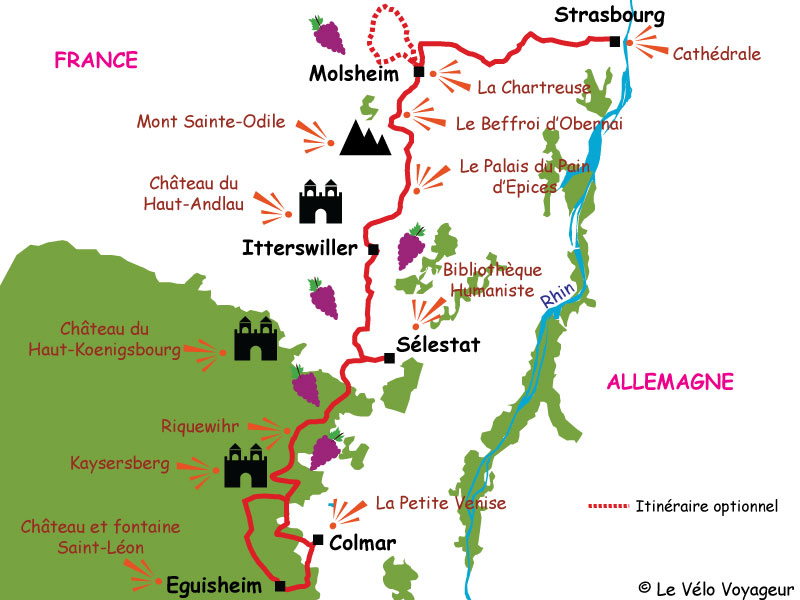 From Strasbourg to Colmar, discover in 5 days the Alsatian vineyards. The cycle route takes both scenic bike paths along the Bruche canal and small country roads with little traffic surrounded by vineyards. You start your tour in Strasbourg, a city with a rich cultural heritage with its cathedral Notre Dame, its covered bridges and its old medieval district "Petite France". Then join the Wine road cycle trail in Molsheim that leads you through many wine villages: Rosheim, Andlau Itterswiller, Châtenois, Bergheim ... On your way enjoy the view on old medieval castles including the famous Haut-Koenigsbourg, the most visited monument in Alsace. Then you ride to the hilltop villages of Ribeauvillé, Riquewihr and Hunawihr, little gems of the Alsace Valley. Finally, end your tour in the beautiful city of Colmar, capital of Alsace wines. An Alsatian glass of wine with a bretzel (local pastry) brings your stay to a close with style!
Day 1

You'll leave the cobblestone streets of Strasbourg's old city center to follow south of the city the channel "Canal de la Bruche". The canal was built by Vauban to transport the sandstones of the Vosges to Strasbourg for the construction of the city's fortifications. You ride on a bike path along the shady banks and the old locks. This scenic route will take you to charming Alsatian villages with their colorful and blooming facades. Then reach to the famous Alsace Wine Route cycle path in Molsheim, a very pretty wine town, birthplace of the Bugatti automobile brand.

Day 2

Molsheim - Itterswiller area

You reach the Alsace Wineroute cycle path and ride on the hillside through the Alsatian vineyards and wine villages.
Pass Rosheim and its Roman-style church, Obernai and its belfry, Gertwiller and its Gingerbread House and later the pretty village of Barr. Take small country roads that meander through vineyards, old railway lines and segments of the former Roman road. Todays ride ends in Itterswiller, a beautiful flowery village nestled in the heart of the vineyards.

Day 3

Itterswiller area - Sélestat area

Choice between 2 itineraries

2 routes options lies before reaching Selestat.

You can continue through the vineyards passing the charming villages of Blienschwiller, Dambach-la-Ville and Scherwiller, where you can see above you the ruins of the castle of Ortenbourg.

The other route is a little sportier. You leave the vineyards and discover the Vosges towards Val de Villé. Ride on wooded slopes and pass the villages Saint-Pierre-Bois and Thanvillé. From there, you take the former Salt Road, a beautiful cycle path through the forest to Sélestat.

Day 4

You leave the Selestat area overlooked by the famous 12th-century-old castle of Haut-Koeningsbourg, then ride into the fortified village of Bergheim, one of the few Alsatian villages which has preserved almost all of its medieval fortifications. Then you leave the Alsace Wine Route cycle path and ride up the hill to Ribeauvillé and its picturesque streets, Riquewihr, the "Pearl of the Alsatian vineyards," and Hunawihr, both referred to as one of the most beautiful villages in France. Do not miss the detour to Kaysersberg, one of the most charming towns in Alsace. Finally, you ride quietly down through the vineyards and apple orchards to reach the beautiful city of Colmar, capital of Alsace wines.

Day 5

You leave Colmar and reach the shady banks of the Thur river. Then keep biking in the Alsatian countryside until Eguisheim, ranked among the most beautiful French villages and many times awarded for its flowers. Admire its beautiful 16th century-old houses with their bright colors and stroll through its cobbled streets. Continue through vineyards to the pretty village of Turckheim where a night watchman continues every night to make his rounds from May to October. You can pause in Ammerschwihr to enjoy a glass of Kaefferkopf, before returning to Colmar.
Bikes
On your arrival day, we provide you with:
a touring bike adjusted to your size
equipped : front rack pack, saddlebag, helmet (on demand), reflective vest, repairing toolkit with patches etc.
We also provide you with the appropriate equipment for your children :
baby seat, bike trailer or trailer bike depending on their age and size
.
Electric bikes are also available for adults (+1m55).
You can of course also bring your own bikes, in this case a reduction will be applied (see the Tarif tab)
Luggage
For this trip, bikes are equipped with
2 waterproof saddle bags
with a capacity of 10 to 20L each to transport your luggage. Do not forget to put your items in a soft travel bag to be able that you can roll it up in your saddle bags.
For more comfort, you can choose to
add luggage transport in your booking
:
(see rate in "Prices")
We transport your luggage from one accommodation to the next using a private vehicle.
Your luggage is directly delivered in your accommodation before you arrive.
We provide a saddlebag for the things you shall need during the day.(included in your bike rental)

Our word of advice :
as we know from experience, we strongly recommend you to avoid wearing a backpack during your cycling trip.
Travel documents
A cycling holiday is the best way to explore a region and discover its culture, landscapes and local traditions.
Your tour is self-guided to give you the freedom to ride at your own pace. You will be provided all the information you need to enjoy the itinerary and its points of interests.
Our documentation contains a very detailed description of the itinerary. No matter how you usually navigate, you will find your way thanks to our comprehensive guidance material including:
a roadbook with maps that we drew at the easiest scale to follow on a bike

a roadbook with step-by-step description giving the direction to follow at each intersection and highlighting the points of interest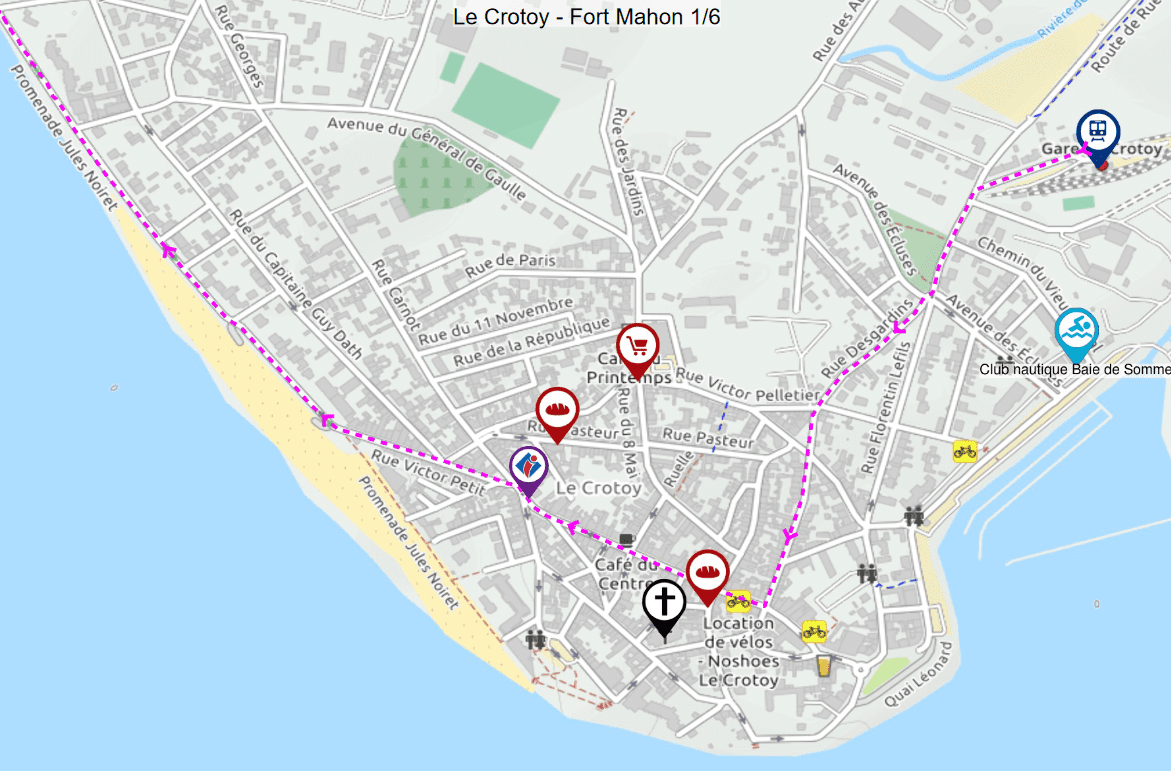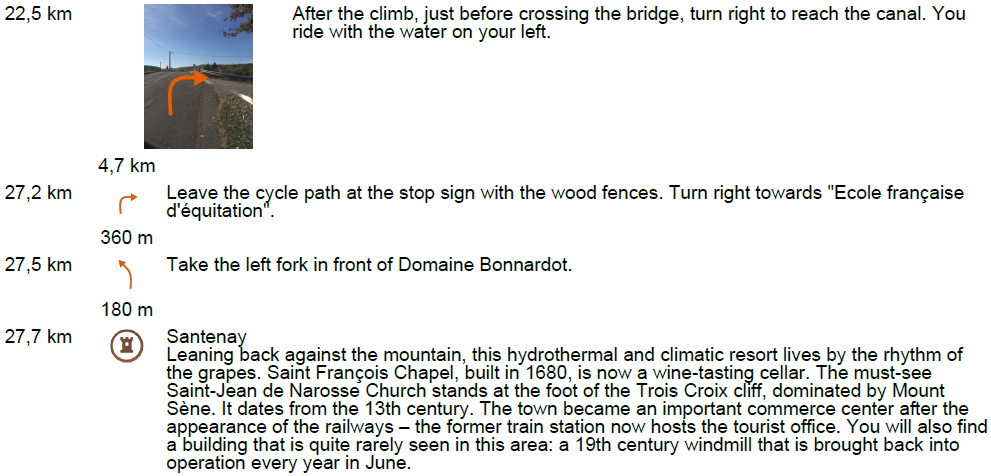 Example of a map and of a step-by-step description


Our GPS App
For this trip, you can also use our smartphone app featuring GPS guidance (without extra fee).

You will find in the app all the information given in the map and step-by-step roadbooks. You will be located on the itinerary with the GPS device of your phone. The route and directions to follow will be both viewable on the screen of your phone and announced aloud. As you ride along the itinerary, you will be given information about visits, restaurants, services and useful alerts on the way.

-> You need to have a smartphone and download Le Velo Voyageur app on your Apple or Android store before the trip. All details concerning the downloading and the use of the application will be given after we have confirmed the booking and the balance is paid. Once the trip is downloaded, the GPS guidance can be used off-line.

22 bike travelers reviews





4.73 / 5
" mit dem Rad über die route de vin "





On the 2022-10-31 by Pedro
eine herrliche Tour durch interessante kleine Orte mit wunderschönen Fachwerkhäusern und manchmal filmreifer Kulisse. Freundliche Menschen und sehr rücksichtsvolle Autofahrer in grösseren Orten. Auffällig und stets willkommen auf dieser Radtour waren die zahlreichen Sitzgelegenheiten unterwegs sowohl auf der Route als auch in den Orten.
" Meine Elsaß-Radreise "





On the 2022-08-21 by Siegfried
Eine schöne Reise
" Excellent Alsatian Cycle Holiday "





On the 2021-10-10 by Eve
From start to finish we throughly enjoyed our cycling holiday through the Alsace wine region organised by Le Velo Voyageur. Excellent company, very responsive and understanding with all the reshuffling of our plans due to Covid travel restrictions. We originally planned to go during easter however rescheduled for late September which was a much better time to go. We had no issue with bike collection or while on route. We stayed in some lovely hotels, some better equipped than others and some with better breakfasts than others however good experiences at all. The luggage transfer was very helpful and would highly recommend. The best part of the experience was the curated route though, very well planned on quiet roads, cycle lanes and canal side. The GPS was BRILLIANT. Very responsive to give us direction cues early, with an interactive map, landmarks and a secure bike mount. Best part was that it didnt drain our batter either.
" Magnifique Alsace à vélo "





On the 2021-09-05 by Patricia
Nous sommes très satisfaits de notre parcours au milieu du vignoble alsacien en famille avec 2 ados, très bonne organisation, paysages magnifiques, vélos électriques au top pour les montées, hôtellerie de qualité, vraiment nous recommandons cette Alsace à vélo dépaysante !
" Excellent Experience "





On the 2021-08-23 by Simon
We looked forward to a bike tour in France for a long time. After much research, cost comparison, and response to questions we went with Velo Voyageur. We are happy we did. The route was easy to follow with the app (even better when you turn the volume up to hear the instructions) and each hotel booked had a unique experience. They even booked us in for a wine tour/sampling which was a highlight of the trip. I would highly recommend if you are looking for a biking vacation.
" Très bien, comme d'habitude "





On the 2021-08-09 by gilles
5 jours dans un cadre bien dépaysant pour nous gens du sud au milieu des vignes et du relief bien marqué des coteaux de cette campagne alsacienne.
" Que du bonheur "





On the 2021-07-31 by ISABELLE
Tout était parfait . L organisation , les hôtels, le transport des bagages , les vélos (tip top) et le parcours . Que de bons souvenirs :)
" Famile mono-papa-rentale "





On the 2021-06-01 by Nicolas
Au grand air, à la force des jambes, dans un cadre formidable, la famille se redécouvre autrement. Que vous connaissiez l'Alsace ou non, la route des vins est mythique. Juste ce qu'il faut de difficultés sur ce parcours pour mériter la bonne gastronomie locale. Très bonne préparation et organisation en dépit des restrictions covid.
" Excellent trip "





On the 2020-08-11 by Camilla
We are very satisfied. Everything went very smooth, from picking up the bikes, find the route, check into the hotels and to deliver back the bikes. The Strasbourg - Colmar route was very good for this bike trip. The towns were nice and quiet and all the guide lines for the trip was very detailed. The hotels was very central and lived up to the expected standard. We will do it again in a different region.
" Alsace Wine Route "





On the 2020-08-08 by Jo Corbeau
Beautiful villages gorgeous wines
" Alsace wine region "





On the 2019-10-17 by Andrew
The region is spectacular and certainly made for cycling. The paths through the vineyards are amazing!especially in harvest time. The sheer number and beauty of the medieval villages that we passed through time and again was amazing and always provided staggering moments. The accomodation was great. My wife and I are over 50 however we easily managed the ride, my wife on an e-bike, as she is not accustomed to riding, until now. Whilst a great challenge given some weather impacts we would happily untake it all again tomorrow.
" Great trip - almost a 5 "





On the 2019-10-01 by Ray and Karen S.
This trip was a fabulous biking route. Gorgeous little medieval villages easily cycled between. Velo Voyageur's program was well organized and laid out. The only reason we didn't give a 5 rating was a few glitches in the directions (pages out of order), and one hotel room which was not a great selection. Also, VV had some terrific restaurant recommendations! We look forward to another VV trip.
" Great tour in Alsace "





On the 2019-05-02 by Alster
absolutely recommendable
" amy "





On the 2018-10-10 by Amy
very good
" Didier "





On the 2018-09-26 by Didier
Excellent séjour.
" Excellent service! "





On the 2018-08-10 by Renae
Beautiful country biking! Loved every minute. While planning Velo was very receptive and response time was impeccable. Thank you for a successful trip.
" Superbe rando dans le vignoble alsacien "





On the 2018-07-27 by C & M
Quatre jours de bonheur à pédaler sur des petites routes très tranquilles au milieu des vignes et à traverser des villages tous plus jolis les uns que les autres.Organisation parfaite, vélos de bonne qualité (personnellement j'avais un vélo électrique, ce que je n'ai pas regretté du tout car il faisait très chaud, et l'Alsace est très vallonnée..); Les pistes sont très bien signalées, impossible de se perdre. On aurait bien continué un ou deux jours de plus!
" A wonderful trip "





On the 2018-06-11 by Colin
We had a wonderful trip in June 2018. It was well organised, the e-bikes were excellent (other than the lack of a computer) and the hotels were, with one exception, very good. We rode through vineyards in fresh leaf and many beautiful ancient towns. One day we cycled up into the Vosges Mountains (only big hills really) and enjoyed the forests. Couldn't have done it without e-bikes! Highly recommended!
" Excellent Family Holiday "





On the 2018-04-20 by Mark
This was a very enjoyable and scenic holiday and was our first hotel to hotel self guided cycling holiday for our family (2 kids aged 11 and 13). The terrain is flat to slightly rolling with a few manageable hills along the way. All communication leading up to our departure was clear and comprehensive. The maps and directions very detailed and the recommended restaurants and places were excellent. Each day there was plenty of time to stop and see the sights and still arrive at the hotel in plenty of time. My only recommendation would be to stay in either Kintzeim or Châtenois rather than Sélestat. While Sélestat is very nice, my preference are the smaller villages/towns rather than navigating into a larger centre like Sélestat. The hotels were all very clean and comfortable.
" Belle expérience "





On the 2017-07-10 by Jacques
Une première expérience avec vélo voyageur très agréable. Matériel en bon état, hébergements sympas, et circuit bien adapté et bien explicité dans le carnet de route
" Jeff "





On the 2016-06-04 by Jeffrey
Very immpressed with Velo Voyager, this was our first European cycling trip, as we were booking trip from Australia, we weren't sure how it would turn out. Everything worked as planned by Velo Voyager, bikes were excellent, route notes and maps were easy to follow. Baggage transport between accomodation worked perfectly. Accomodation was to a very good standard. The Alsace was a great area to cycle in and the planned days cycling allowed for plenty of sightseeing.
" Pierre le p'tit Suisse "





On the 2016-05-11 by Pierre le p'tit Suisse
Contacts agréables, renseignements précis, itinéraires bien choisis, logements de qualité, tout est bien préparé. C'est une solution de confort pour découvrir et voyager à vélo.