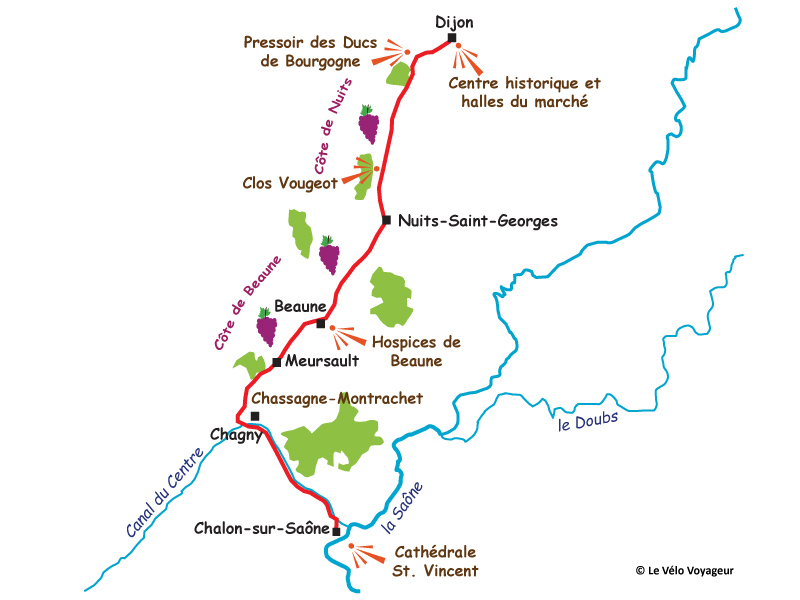 This bike tour takes you through the most famous vineyards of the Burgundy wine region known as Cote de Beaune and Cote de Nuits. Your delightful route begins from Chalon-sur-Saone along the Central Canal. From there, you'll experience biking on marvelous "La Voie des Vignes" bike trail through well-maintained vineyards as famous as Chassagne-Montrachet, Meursault or Pommard. This self-guided tour lets you stop in as many wine properties you want. You'll stay in the town of Beaune, the capital of Burgundy wine. It's there you'll visit the "Hospices de Beaune" a medieval hospital turned into one of France's most prestigious historic landmarks. The second day of the tour leads you through Nuits-Saint-Georges until reaching the charming town of Dijon.
Day 1

Today's ride has you leaving Chalon-sur-Saone on the peaceful towpath next to the Canal de Bourgogne. This easy path leads you past Chagny, where you reach Santenay, gateway to the vineyards of Cote de Beaune. After riding on the "Voie des Vignes" bike path, you'll transfer over the quiet, back roads, past one historic village to another. The day ends in Meursault, known for its castle and for being one of the shooting locations for the movie, "La Grande Vadrouille".

Day 2

Meursault - Nuits Saint Georges area

You can look forward to another day of biking through vast, lush vineyards, passing Pommard before reaching the town of Beaune. Take time to stroll the streets through the town sqaure where a labyrinth of wine cellars are hidden under the city streets. You'll especially want to visit the Hospices de Beaune, a medieval hospital, with distinctive Gothic architecture and colorful tiled roofs. The museum gives well-laid out historical information on the Hospice's history from the 15th century until today. End your day by riding through vineyards and reach Nuits-Saint-Georges or one of the surronding villages.

Day 3

Nuits Saint Georges - Dijon

This morning discover the vineyards of the Cotes de Nuits area, a 20km strip of land running south from Dijon to Nuits-Saint-Georges. Stop at the doorstep of the Chateau de Clos Vougeot, a highly symbolic building founded by the monks of the Abbaye de Citeaux. You'll learn about the distinct castle architecture, as well as the rites of the brotherhood of the Chevalier du Tastevin. This organization, sometimes known as the Brotherhood of the Knight's Tasting Cup is a bacchanalian society committed to enjoying and promoting the wines and food of the Burgundy region of France. Continue the ride to Dijon, former capital to the powerful Dukes of Burgundy. This lively city has open and welcoming atmosphere. End your day with a delightful stroll through the remarkable well-preserved city center.
Bikes
On your arrival day, we provide you with:
a touring bike adjusted to your size or a tandem
equipped : front rack pack with an integrated file compartment, saddlebag, helmet (on demand), reflective vest, repairing toolkit with patches etc.
We also provide you with the appropriate equipment for your children :
baby seat, bike trailer or trailer bike depending on their age and size
.
Electric bikes are also available for adults (+1m55).
You can of course also bring your own bikes, in this case a reduction will be applied (see the Tarif tab)
Luggage
For this trip, bikes are equipped with
2 waterproof saddle bags
with a capacity of 10 to 20L each to transport your luggage. Do not forget to put your items in a soft travel bag to be able that you can roll it up in your saddle bags.
For more comfort, you can choose to
add luggage transport in your booking
:
(see rate in "Prices")
We transport your luggage from one accommodation to the next using a private vehicle.
Your luggage is directly delivered in your accommodation before you arrive.
We provide a saddlebag for the things you shall need during the day.(included in your bike rental)

Our word of advice :
as we know from experience, we strongly recommend you to avoid wearing a backpack during your cycling trip.
Travel documents
A cycling holiday is the best way to explore a region and discover its culture, landscapes and local traditions.
Your tour is self-guided to give you the freedom to ride at your own pace. You will be provided all the information you need to enjoy the itinerary and its points of interests.
Our documentation contains a very detailed description of the itinerary. No matter how you usually navigate, you will find your way thanks to our comprehensive guidance material including:
a roadbook with maps that we drew at the easiest scale to follow on a bike

a roadbook with step-by-step description giving the direction to follow at each intersection and highlighting the points of interest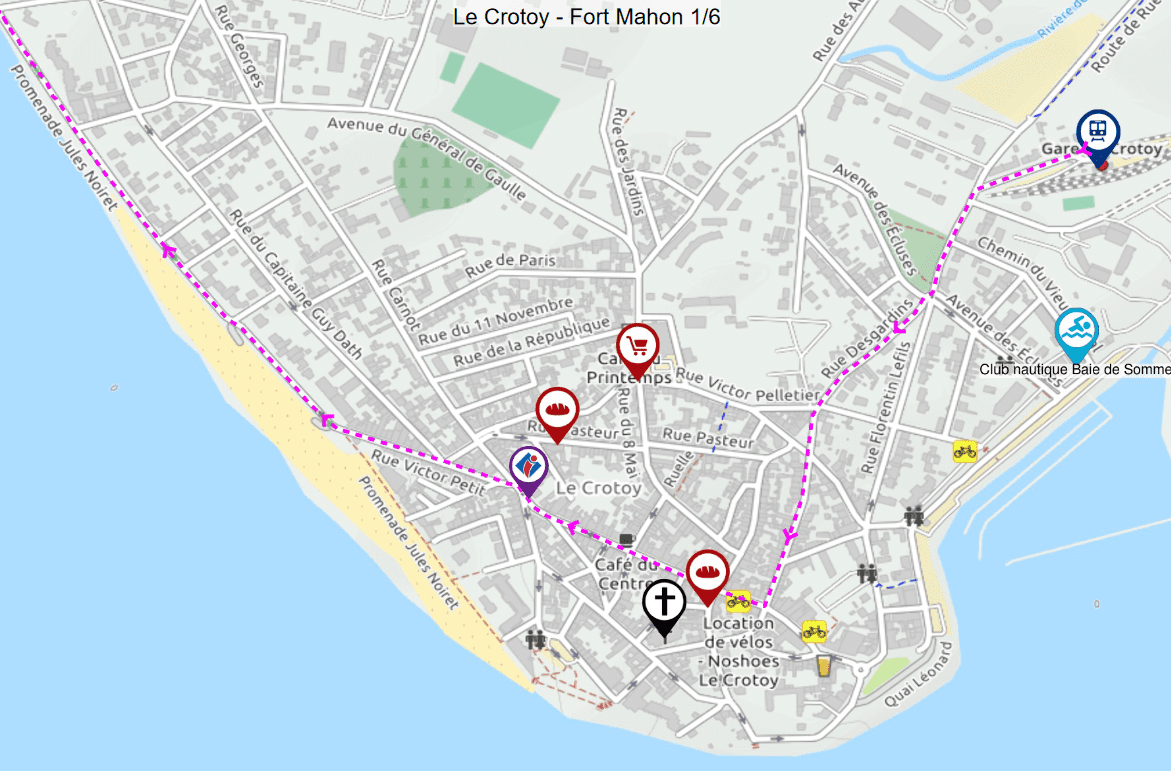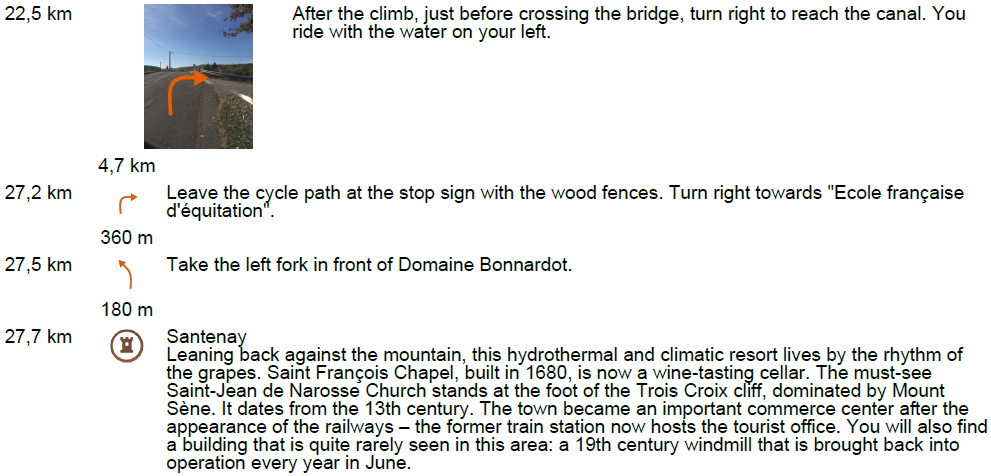 Example of a map and of a step-by-step description


For this short trip your travel documents will be sent electronically.
Our GPS App
For this trip, you can also use our smartphone app featuring GPS guidance (without extra fee).

You will find in the app all the information given in the map and step-by-step roadbooks. You will be located on the itinerary with the GPS device of your phone. The route and directions to follow will be both viewable on the screen of your phone and announced aloud. As you ride along the itinerary, you will be given information about visits, restaurants, services and useful alerts on the way.

-> You need to have a smartphone and download Le Velo Voyageur app on your Apple or Android store before the trip. All details concerning the downloading and the use of the application will be given after we have confirmed the booking and the balance is paid. Once the trip is downloaded, the GPS guidance can be used off-line.

10 bike travelers reviews





4.90 / 5
" Une belle expérience "





On the 2022-09-06 by Jala
3 jours très agréables avec un parcours très bien choisi, des hôtels proches des gares et des centre villes (ou villages), ce séjour a été vraiment un grand plaisir
" Countryside in the Burgundy, "





On the 2021-09-20 by Felix and Lucia
Perfect short holiday trip for weekend or also in the middle of the week.
" Lovely trip through the vineyards "





On the 2020-08-02 by Claire
We had a wonderful weekend ride through the vineyards of Bourgogne. The route was very enjoyable, and the bikes worked great.
" Voie des vignes "





On the 2020-06-22 by Marcel
Die Reise entlang des Canal du Centre und durch die einmalig schönen Weinberge des Burgund liess keine Wünsche offen. Mit ausgezeichneten Mietvelos fuhren wir unbeschwert und gefahrlos auf der voie verte. Das Gepäck wurde von Hotel zu Hotel transportiert und war immer rechtzeitig im rechten Hotel. Die Hotels (Kategorie A) waren sauber und angenehm. Der Empfang war sehr freundlich. Das Hotel in Meursault ist neu renoviert im Stil der 60-er Jahre (hat mir speziell gefallen), das Hotel in der Nähe von Nuits Saint Georges lohnt einen Besuch, auch wenn es ein wenig peripher liegt, denn nicht nur die Zimmer sind schön und grosszügig, sondern auch der Garten, die Terrasse und die "Piscine" haben uns sehr gut gefallen.
" Vélo voyageur au top! "





On the 2019-07-15 by Sandra
Nous avons eu de très bons services de la part de Vélo Voyageur avant notre séjour. Les documents et conseils donnés nous ont permis de vivre un séjour très agréable. Les logements choisis ont répondu à nos attentes et même plus. Les transports de bagage ont été totalement satisfaisants. Nous ne pouvons que recommander Vélo Voyageur.
" Great Trip "





On the 2019-06-29 by Jane
We organised a short cycle trip for our family, in the Burgundy wine region. Everything went well. The bikes were very good, the hotels were nice, the route was well thought out, the trip info was complete and easy to follow. The new GPS App was very helpful. I would highly recommend this company. This is our second experience with them.
" Fantastic trip, flawless organization "





On the 2019-06-28 by Marcel
This was my first bike tour during a trip and I'm more than happy that I organized it with Velo Voyageur. The scenery was amazing and all the information provided was clear and useful, from the suggested route to the restaurant recommendation (trust these guys - we ate at some amazing gems in Chagny and Beaune!). The ride was pretty easy, and my wife and I had no trouble covering the distance. It starts longer in the 1st day (when you're at top energy) and is shorter in the 2nd and 3rd (when you are a bit more tired), which is quite nice. It's wonderful to ride a bit enjoying the river and vineyard scenery, stop to have a wine tasting, ride a bit more, stop for lunch and to visit a castle or church, ride a bit more - everything at your own pace and according to your interests. Luggage transportation worked flawlessly and our bags were always there waiting for us at the next hotel at the end of the day. I have absolutely no complaints and would thoroughly recommend this trip to anyone interested!
" Pascale "





On the 2019-04-29 by Pascale
Bonne organisation, bons vélos électriques, joli parcours, demi pension correcte, hôtels bas de gamme pour le prix élevé
" Une réussite "





On the 2018-05-21 by Mercedes
Pour une première expérience, séjour très agréable et correspondant à notre niveau de pratique. La région visitée (la route des vins) très agréable, le temps au rdv, et les hôtes et leurs gérants très accueillants. Je recommande cette équipe très sympa.
" Didier "





On the 2015-08-10 by Didier
Parfait, très beau circuit, très bonne organisation, bon matériel, document complet, aucune faille. A recommander, Merci