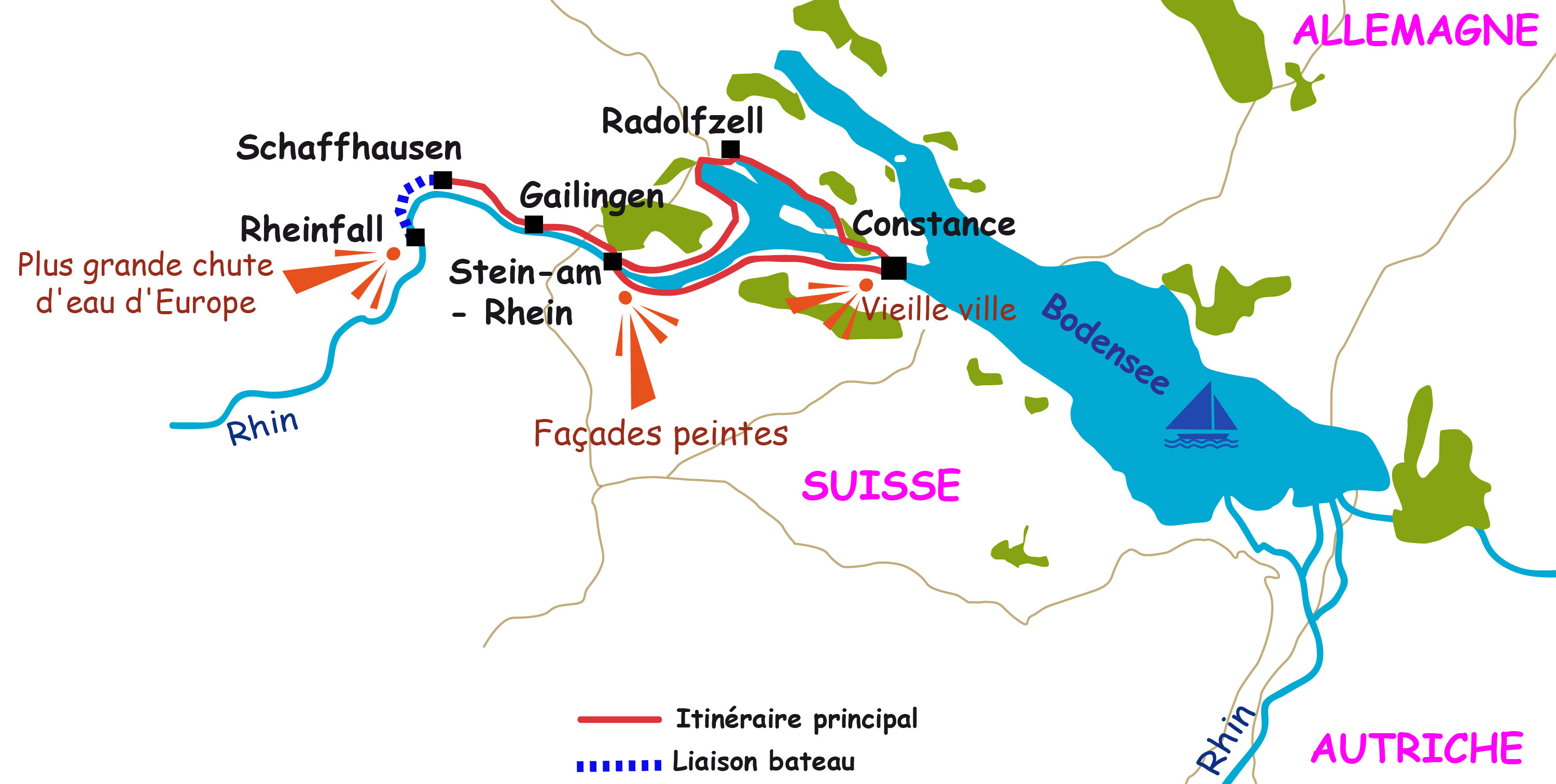 This short cycling tour takes you through the lower part of Lake Constance. Right out of the city of Constance, you ride in Switzerland on the shores of the lake ornamented with vineyards and pretty fishing villages. This cycling tour gives you the opportunity to admire Stein am Rhein and its magnificent medieval painted houses, Schaffhausen and its fortress, the impressive Rhine Falls. A nice getaway in a region that proudly reflects its rich history and cultivates its relaxed lifestyle.
DAY 1

Arrival in Constance

Arrival in Constance. Located on the scenic shores of Lake Constance, take time to discover the remarkably well preserved medieval quarters of this former commercial city. Overnight stay in Constance.

DAY 2

You ride along the lake to leave Constanz and cross charming little fishermen villages on the swiss side of the lake. You reach Stein-am-Rhein where the houses are totally painted with frescoes. Then follow your way to Gailingen where you will spend the night.

DAY 3

Gailingen - Schaffhausen - Rhine Falls

You drive towards the Schaffhausen, a cute little town protected by the Munot fortress. Then, you reach the largest waterfall in Europe, listed as World Heritage by UNESCO. Throughout the day, you have a beautiful view of the lake you can always dive into its refreshing water. Night in Gailingen.

Boat tour to the Rhine falls

2h

Included

DAY 4

Gailingen - Radolfzell - Constance

The itinerary leads you along the lake towards Radolfzell.environment federal capital. Enjoy the city Profitez de cette ville surrounded by large natural reserves. You leave to reach Constance.
Bikes
On your arrival day, we provide you with :
a touring bike adjusted to your size or a tandem
equipped : front rack pack with an integrated file compartment, saddlebags, helmet (on demand), reflective vest, repairing toolkit with patches etc.
We also provide you with the appropriate equipment for your children :
baby seat, bike trailer or trailer bike
depending on their age and size.
Electric bikes
are also available for adults for some trips. If available, the option is specified on the page "prices".
Luggage
Our services include luggage transport in order to let you enjoy your trip comfortably and without stress
(optional for short trips) :
We transport your luggage from one accommodation to the next using a private vehicle.
Your luggage is directly delivered in your hotel room before you arrive.
We provide bicycle saddlebags for the things you shall need during the day.

If your package doesn't include luggage transport,
the bikes will be equipped with 2 waterproof saddlebags with 10 to 20L capacity each to carry your things.
Our word of advice :
as we know from experience, we strongly recommend you to avoid wearing a backpack during your cycling trip.
Travel documents
A cycling holiday is the best way to explore a region and discover its culture, landscapes and local traditions.
Your tour is self-guided to give you the freedom to ride at your own pace. You will be provided all the information you need to enjoy peacefully the itinerary and its interesting sites.
You will have in your travel documents
maps of the itinerary
- a detailled bike map (scale 1:50 000)

- a leaflet with the point of interest and your practical information (hotellist, opening hours, etc.)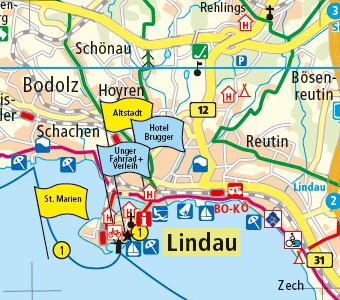 Example