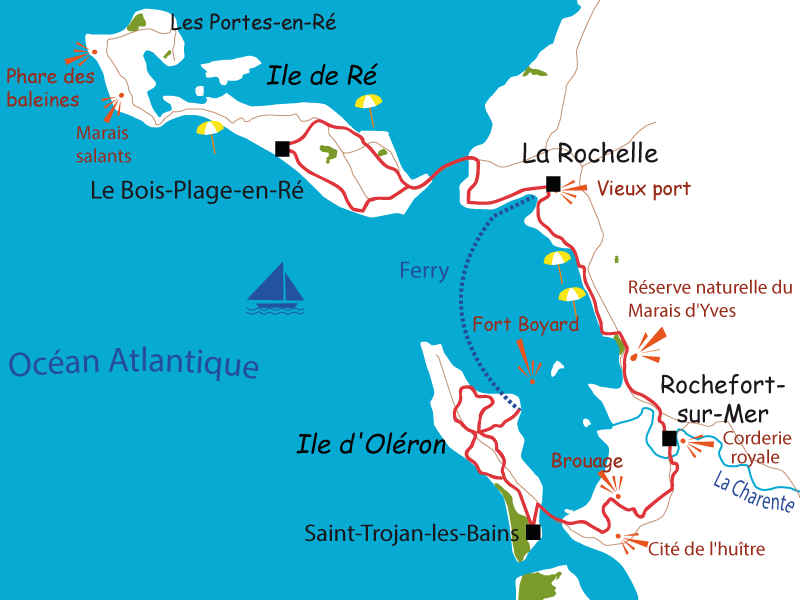 If you crave for a deep breath of sea air, a mild climate and the natural quiet life of the seashore, this cycling holiday is for you. "Ile de Ré" and "Ile d'Oléron" welcome you on their paths edged with hollyhocks, across exceptional natural reserves or on the coastline. The cycling tour starts in La Rochelle and winds from an island to the other passing through Rochefort-sur-mer and Marennes. The very last stretch is on a boat to let you admire from a completely different perspective the coast and the 2 medieval towers protecting the old harbor of La Rochelle.
DAY 1

La Rochelle

La Rochelle prosperous past can be easily noticed thanks to its nice architecture from which the old fortified harbor is remarkable.

The city offers a wide range of cultural and touristic activities. Do not miss La Rochelle aquarium. The city is very well equipped with cycling paths, which makes it perfect for discovering it on a bicycle.

Visit of the Towers of the Old Port of La Rochelle

2h

9,50 € / adult


DAY 2

La Rochelle – Le Bois-Plage

Facing La Rochelle, Ile de Ré is just a few pedal strokes away. You ride on the cycling paths along the coast to the bridge of Ile de Ré. You continue along the coast to La Flotte then through the vineyards to Le Bois-Plage-en-Ré.

DAY 3

Suggested day trip : through the swamps of Loix or Ars-en-Ré

You start by riding through Saint-Martin-de-Ré where you can admire the Vauban citadel. Then, you continue along the coast to the delightful fishing village of Loix before riding back to Bois-Plage-en-Ré.

You can extend the day trip to Ars-en-Ré, listed among the most beautiful villages of France.

Suggested day trip : the big tour of Ile de Ré

This day trip for the most courageous leads first to Saint-Martin-de-Ré and then to the end of the island: the Portes-en-Ré. Then, you ride through the pine forest to the famous lighthouse of Ile de Ré: the lighthouse of whales before riding back to Le Bois-Plage.

DAY 4

Le Bois-Plage – La Rochelle

You discover the coast with the fine-sand beaches and the delightful village of Sainte-Marie-de-Ré before taking back the bridge to La Rochelle.

DAY 5

La Rochelle – Rochefort-sur-mer

Begin by riding on the seaside cycling path through small villages such as Les Boucholeurs or Chatelaillon-Plage. As you pedal along the marshes, try and spy the birds, herons and storks in the area.

When you reach Rochefort, notice the distinct naval architecture. The city was an active naval base from the time of Louis XIV until 1926. You might want to tour the Corderie Royal, an interesting rope factory where all the ropes for military sailboats were made. Enjoy flowers? The Conservatoire du Begonia houses the world's largest collection of begonias!

DAY 6

Rochefort-sur-Mer - Saint-Trojan-les-Bains

Start the day by admiring France's last transporter bridge. Classified as a national monument, the bridge gets walkers, runners and bikers cross the river safely. A moveable section of the bridge carries a segment of the roadway across a river.

Meander on the bike path along the marsh area. Originally this marsh was covered with water, making it a valuable site for the salt trade. The city of Brouage was built in the 16th century as a fortified port. The sea receded but part of Brouage remained. Explore the over 2km hike on the ramparts as well the many buildings still towering over the marsh.
The route continues through the marshes of the estuary to the island of Oleron. From the bridge you'll see the magnificent silhouette of Fort Boyard. End your day with a delicious bowl of Marennes oyster. These oysters grow in oysters beds all their life, so they are less bitter than oysters caught in the sea.

DAY 7

Today is designed for relaxation and fun. Don't miss enjoying beautiful Gatseau beach, hidden behind a pine forest. It is accessible only by walking, biking or taking a small train but worth the extra effort!

If you like, take a day bike trip and discover the island of Oleron with its quaint villages, oyster ports and of course, beaches and forests.

DAY 8

Saint-Trojan-les-Bains - La Rochelle

Boat ride between Boyardville and La Rochelle (Be careful there are only 2 crossings per day!)

Begin the day with a short ride to Boyardville, where you can fish, shop or look at the oyster farms. You could even try to surf! From here, take a boat ride back to La Rochelle. This small cruise lets you admire the coastline without pedaling. Keep you eyes open to see Fort Boyard, visible on clear days.

DAY 9

Departure from La Rochelle

After breakfast, you leave for your next destination or extend your stay as you wish.
Bikes
On your arrival day, we provide you with:
a touring bike adjusted to your size or a tandem
equipped : front rack pack with an integrated file compartment, saddlebag, helmet (on demand), reflective vest, repairing toolkit with patches etc.
We also provide you with the appropriate equipment for your children :
baby seat, bike trailer or trailer bike depending on their age and size
.
Electric bikes are also available for adults (+1m55).
You can of course also bring your own bikes, in this case a reduction will be applied (see the Tarif tab)
Luggage
Our services include luggage transport in order to let you enjoy your trip comfortably and without stress :
We transport your luggage from one accommodation to the next using a private vehicle.
Your luggage is directly delivered in your accommodation before you arrive.
We provide a saddlebag for the things you shall need during the day.
Our word of advice :
as we know from experience, we strongly recommend you to avoid wearing a backpack during your cycling trip.
Travel documents
A cycling holiday is the best way to explore a region and discover its culture, landscapes and local traditions.
Your tour is self-guided to give you the freedom to ride at your own pace. You will be provided all the information you need to enjoy the itinerary and its points of interests.
Our documentation contains a very detailed description of the itinerary. No matter how you usually navigate, you will find your way thanks to our comprehensive guidance material including:
a roadbook with maps that we drew at the easiest scale to follow on a bike

a roadbook with step-by-step description giving the direction to follow at each intersection and highlighting the points of interest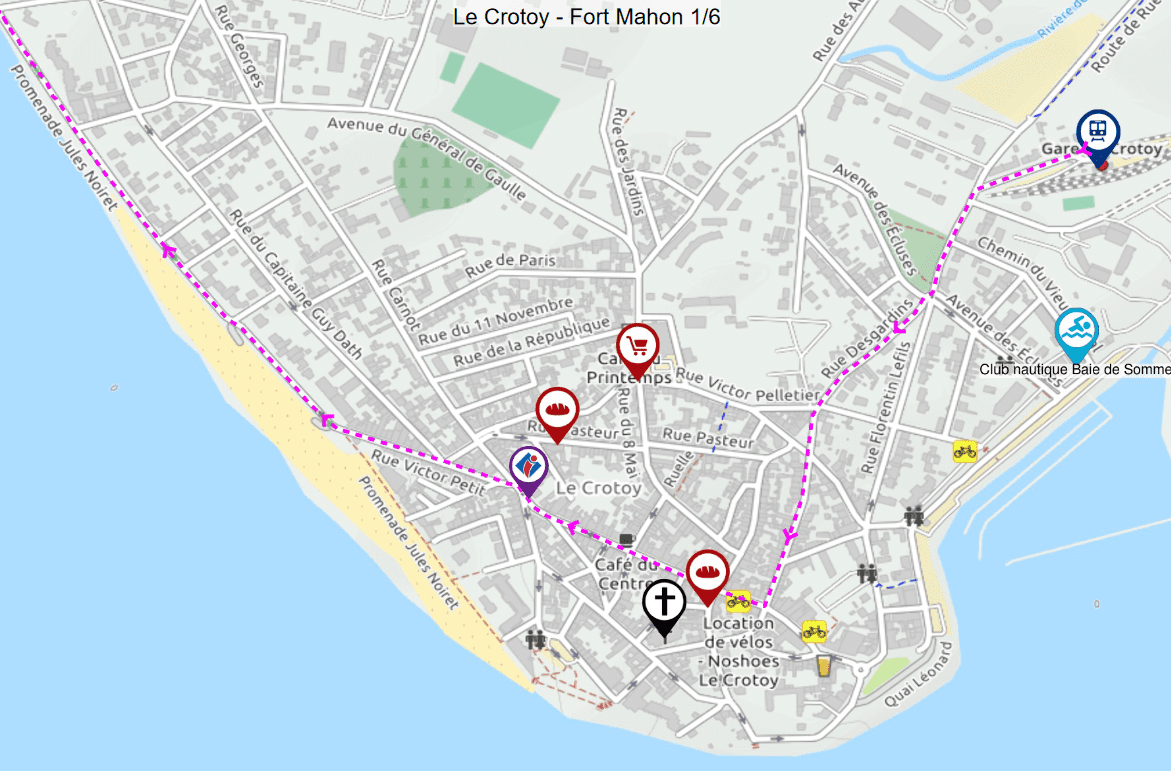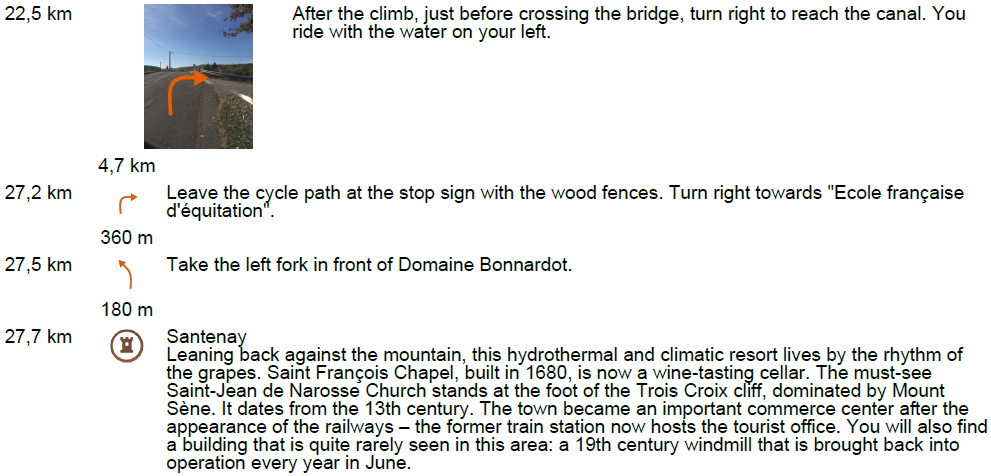 Example of a map and of a step-by-step description


Our GPS App
For this trip, you can also use our smartphone app featuring GPS guidance (without extra fee).

You will find in the app all the information given in the map and step-by-step roadbooks. You will be located on the itinerary with the GPS device of your phone. The route and directions to follow will be both viewable on the screen of your phone and announced aloud. As you ride along the itinerary, you will be given information about visits, restaurants, services and useful alerts on the way.

-> You need to have a smartphone and download Le Velo Voyageur app on your Apple or Android store before the trip. All details concerning the downloading and the use of the application will be given after we have confirmed the booking and the balance is paid. Once the trip is downloaded, the GPS guidance can be used off-line.

10 bike travelers reviews





4.30 / 5
" De Ré à Oléron avec plaisir, une belle découverte "





On the 2022-07-11 by FranLeco
Félicitations pour l'organisation de notre circuit entre Ré à Oléron; tout a fonctionné à quasi merveille, des réservations, en passant par l'accueil et la qualité des différents hôtels où nous avons séjourné (avec une mention particulière pour le BWP de La Rochelle où nous avons passé 4 nuits), comme le transport de nos bagages sans accrocs. La documentation de voyage (programme - parcours avec description détaillée et cartes - livret pratique - etc.) est très complète et bien utile. Comme la météo s'est aussi mise au diapason, nous avons vécu de bons moments en Charente-Maritime et eu beaucoup de plaisir à suivre le circuit proposé varié, attractif, à l'écart de la circulation, calme et rempli de découvertes, paysages intéressants. L'accompagnement des organisatrices était remarquable, empreint de gentillesse, de patience et de compréhension.
" Very nice trip! Recommend! "





On the 2022-07-09 by Rebecca
Our 3rd biking trip with Le Velo, and still satisfied. Always professional, very helpful when figuring out details of trip and itinerary before the trip- Choice of hotels generally very good, bikes and luggage transport so far always good- Staff very helpful when dealing with small emergencies during the trip- Only thing during this trip was that GPS app was not very performing, so we got lost a lot- The cities, islands and small towns on this route were all very beautiful, and interesting- Already thinking about our next biking trip with Le Velo Voyageur!
" debriefing du circuit La Rochelle - Ile d'Oléron - Ile de Ré "





On the 2020-09-25 by Bernard Gillet
Sur le conseil d'un ami, nous avons contacté Le Vélo-Voyageur pour nous organiser un circuit familial convenant à 3 générations (de 13 à 74 ans). Notre choix s'est porté pour une semaine de La Rochelle à La Rochelle, en passant par l'Ile d'Oléron, Rochefort et l'Ile de Ré. Nous n'avons pas été déçu, c'est magnifique ! Les étapes ne sont pas trop longues et on a eu le temps de s'attarder. L'organisation était bonne dans son ensemble. A recommander !
" iles charente maritime "





On the 2020-08-10 by Pascale
circuit nature très sympa entre ré et oléron avec découverte de jolis chemins à travers les marais , canaux et le long de la cote , hébergements et vélos au top , le circuit est palt et les 40 km quotidiens se font facilement . Nous recommandons
" Balade en charente Maritime "





On the 2019-08-29 by Jean-Marc
Une équipe à l'écoute et réactive. Un circuit assez facile et très plaisant, car quasiment jamais sur des grands axes. les hôtels sélectionnés étaient très agréables... bref 8 jours de vélo sympa
" excellent "





On the 2019-08-27 by kira
excellent
" Judith "





On the 2015-08-09 by Judith
Overall a lovely experience for our family of 2 adults and 2 teenagers and the varied itinerary pleased us all.
" Excellente expérience "





On the 2014-06-01 by jiheles
Première expérience de ce type d'organisation . Nous sommes prêt à renouveller
" ? "





On the 2013-09-16 by Christian
Très chouette circuit mais très mal décrit !
" Belle expérience! "





On the 2013-09-06 by Geraldine
Bonjour, Mon ami et moi avons passé un séjour super et vraiment dépaysant alors que nous sommes restés en France. Nous avons adoré voyager à vélo et les nombreuses rencontres que cela nous a permis de faire. Loueur de vélos super sympa, hôteliers accueillant et organisation au top! Nous avons vraiment hâte de pouvoir recommencer cette superbe expérience. Géraldine & Fred