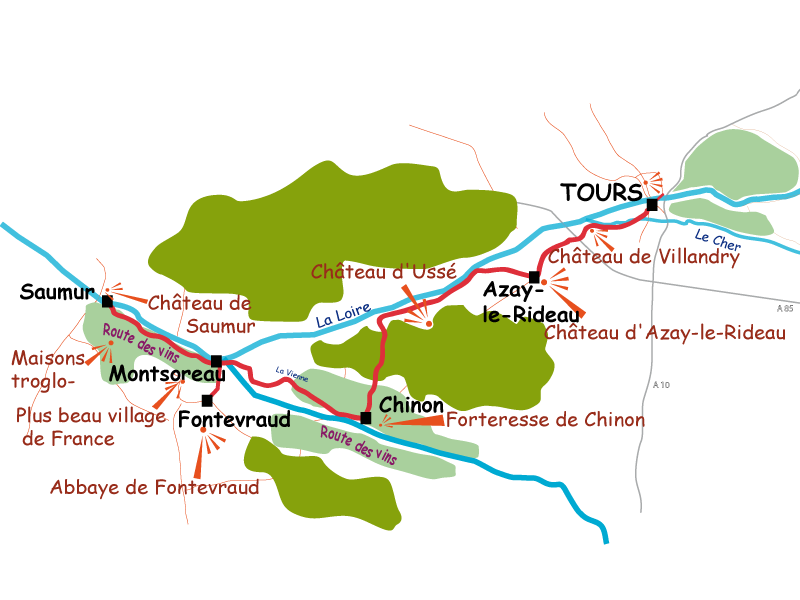 Encounter the breathtaking beauties of the Loire valley by riding on the "Loire à vélo" bike route between Tours and Saumur. Meandering between the Loire valley and the Vienne valley, the bike route follows little country roads passing by the most prestigious castles, the chateaux de la Loire such as the chateau de Villandry, the chateau d´Azay-le-Rideau or the chateau d´Ussé, the castle of the Sleeping Beauty. You will not only admire the changing colors of the Loire River, the traditional boats swinging between the sand banks, but also the vineyards of Chinon and Saumur or the abbaye de Fontevraud. You will also see many cave houses all along the way. Give in to the magic of a cycling holiday in the Loire.
DAY 1

You wind on the cycling path along the Loire to leave Tours and reach the château de Villandry with its beautiful French gardens. Enjoy the banks of the Loire Valley before riding up through forests towards the château d'Azay-le-Rideau.

DAY 2

Keep on cycling on « Loire à vélo » and ride on the dike to get to the château d'Ussé which inspired the Sleeping Beauty fairy tale. You enter into Chinon overlooking the old town. Enjoy the labyrinth of medieval narrow streets when you ride down the Vienne River.

DAY 3

Chinon - Fontevraud

Choose between canoeing or biking

TWO OPTIONS :

You can choose to exchange your bicycle for a canoe and float along the Vienne River to Montsoreau and finish your day by bike to Fontevraud, or continue cycling to Fontevraud and visit its beautiful abbey.

OPTION 1 : Canoe ride to Montsoreau and cycling to Fontevraud

4h

Enjoy a canoe ride to discover the beauty of the Loire valley from the river side. You arrive in the gorgeous small village of Candes-Saint-Martin built with freestone. Keep on to Montsoreau which is one of the "Loveliest Villages in France" built around its castle. You land right next to the castle, take your bike back and continue cycling to Fontevraud (10 km).(From 6 years on and able to swim only. If you are not able or if you do not want to do this activity, you will keep on with your bike to Montsoreau). Not available after the 30rd of September.


Included

OPTION 2 : Biking to Fontevraud

3h

Ride first along the Vienne river through the beautiful white freestone villages of Candes-Saint-Martin and Montsoreau. Keep on the hills to Fontevraud which is worth visiting for its magnificent abbey which shelters the tombs of Richard the Lionheart and Eleanor of Aquitaine.


Included

DAY 4

Fontevraud - Saumur

2 route options

Today's route alternates between cave houses and vineyards. Then, you can choose to ride along the Loire or through the hills. Both paths lead to the village of Souzay-Champigny where you ride among beautiful cave houses. Stop by to taste the wines of Saumur. At the end of this charming route, you discover the city of Saumur and its castle with impressive dungeons.
Bikes
On your arrival day, we provide you with:
a touring bike adjusted to your size or a tandem
equipped : front rack pack with an integrated file compartment, saddlebag, helmet (on demand), reflective vest, repairing toolkit with patches etc.
We also provide you with the appropriate equipment for your children :
baby seat, bike trailer or trailer bike depending on their age and size
.
Electric bikes are also available for adults (+1m55).
You can of course also bring your own bikes, in this case a reduction will be applied (see the Tarif tab)
Luggage
For this trip, bikes are equipped with
2 waterproof saddle bags
with a capacity of 10 to 20L each to transport your luggage. Do not forget to put your items in a soft travel bag to be able that you can roll it up in your saddle bags.
For more comfort, you can choose to
add luggage transport in your booking
:
(see rate in "Prices")
We transport your luggage from one accommodation to the next using a private vehicle.
Your luggage is directly delivered in your accommodation before you arrive.
We provide a saddlebag for the things you shall need during the day.(included in your bike rental)

Our word of advice :
as we know from experience, we strongly recommend you to avoid wearing a backpack during your cycling trip.
Travel documents
A cycling holiday is the best way to explore a region and discover its culture, landscapes and local traditions.
Your tour is self-guided to give you the freedom to ride at your own pace. You will be provided all the information you need to enjoy the itinerary and its points of interests.
Our documentation contains a very detailed description of the itinerary. No matter how you usually navigate, you will find your way thanks to our comprehensive guidance material including:
a roadbook with maps that we drew at the easiest scale to follow on a bike

a roadbook with step-by-step description giving the direction to follow at each intersection and highlighting the points of interest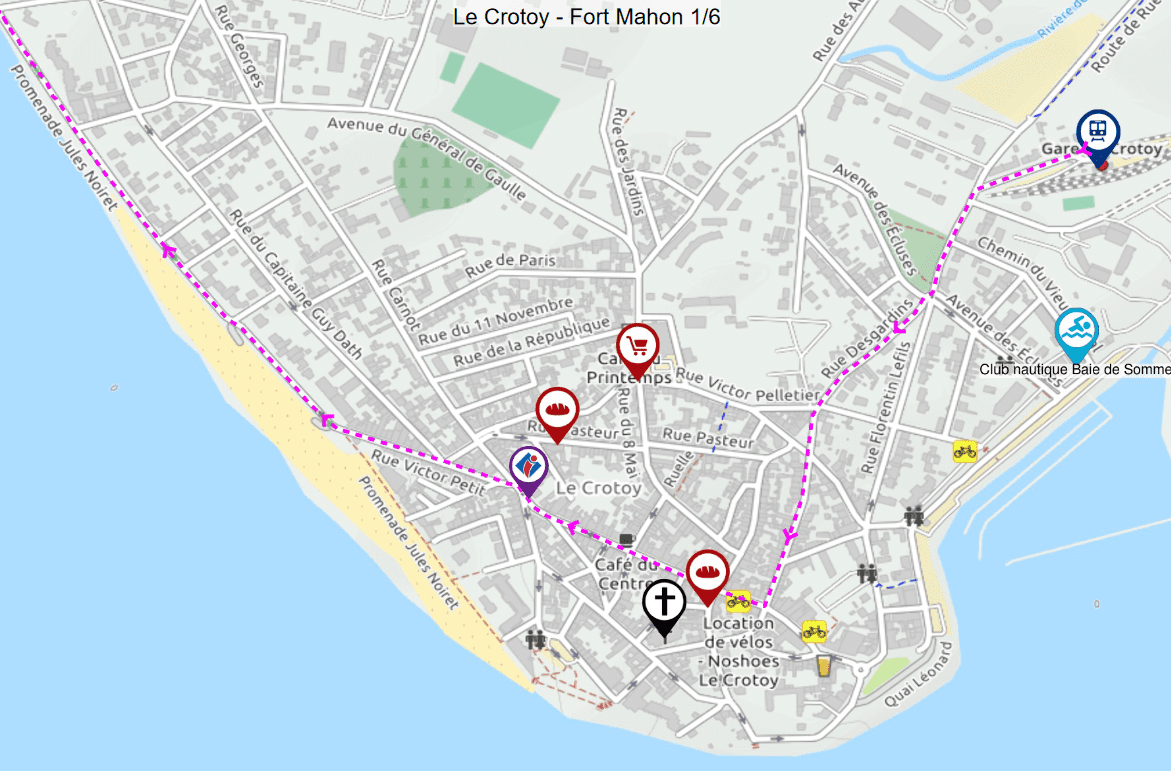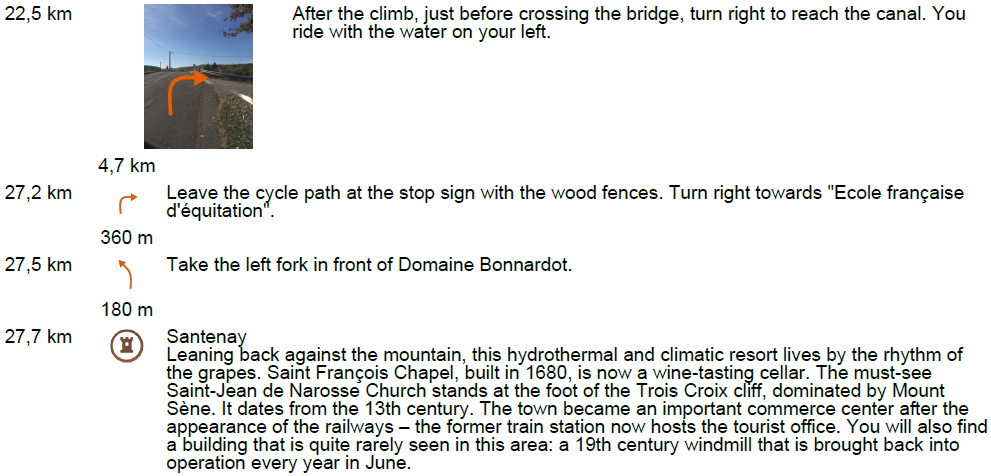 Example of a map and of a step-by-step description


Our GPS App
For this trip, you can also use our smartphone app featuring GPS guidance (without extra fee).

You will find in the app all the information given in the map and step-by-step roadbooks. You will be located on the itinerary with the GPS device of your phone. The route and directions to follow will be both viewable on the screen of your phone and announced aloud. As you ride along the itinerary, you will be given information about visits, restaurants, services and useful alerts on the way.

-> You need to have a smartphone and download Le Velo Voyageur app on your Apple or Android store before the trip. All details concerning the downloading and the use of the application will be given after we have confirmed the booking and the balance is paid. Once the trip is downloaded, the GPS guidance can be used off-line.

57 bike travelers reviews





4.80 / 5
" AxelR "





On the 2022-09-28 by Axel
Un parcours sympathique et abordable même pour les non sportifs. Les visites de châteaux et les jardins sont très sympas!
" Séjour enchanteur et enchanté "





On the 2022-08-30 by lucile
Nous avons effectué un périple de 4 jours sur la Loire et nous ne pouvons que conseiller cette appli, tout est prévu et organisé pour le voyageur,:confort des velos, soins des bagages,choix des hotels,des restaurants,conception des itinéraires....... c'est bien pensé,bien calibré, nous recommandons fortement velovoyageur !!
" de TOURS à SAUMUR "





On the 2022-07-28 by françois
Superbe ballade à recommander
" vélo kayak en Loire "





On the 2022-05-03 by Flog
Séjour de 4 jours entre Loire, Vienne, Indre et Cher, à vélo et en kayak, très bien équilibré et organisé. la communication papier de Vélo voyageur est à parfaire grandement. Sinon bravo !
" Super balade "





On the 2021-08-27 by Sophie
Ma fille et moi avons adoré cette balade de 4 jours en bord de Loire. L'itinéraire comme les étapes étaient très bien organisés, avec des hôtels très agréables. Le personnel d'assistance a été réactif lorsque nous avons rencontré une petite difficulté.
" Un voyage équilibré, entre culture et sport "





On the 2021-08-02 by Ségolène
Le parcours touristique était très bien conçu, l'hébergement au-delà de mes attentes et le service toujours bon, voire particulièrement aimable. Vélos de qualité; l'alternance avec le kayak est une bonne idée! Quel plaisir de (re)découvrir la Renaissance dans la Loire ainsi (même si l'expérience peut être un peu ardue pour les moins sportifs en fin de journée!).
" super organisation. "





On the 2021-06-16 by JEAN-PAUL
les contacts avant et pendant super, organisation sans problème, guidage GPS super, transfert des valises impeccables. je vous les recommande. merci, le choix de la demi pension est une super formule et les restaurants choisis était à la hauteur de nos attentes. merci et félicitation.
" Excellent mais des réglages à faire "





On the 2021-05-30 by kathrine
Au magasin de vélos insister pour une explication exhaustive du fonctionnement des vélos, aide au réglage du casque, conseils sur le fonctionnement de l'assistance électrique. Le GPS aurait été un plus ,au moins conseiller de télécharger Google maps qui indique les pistes cyclables... Guide à simplifier Hotels très bien choisis, pt dej excellents, choix des itinéraires très bien
" Séjour parfait sur les bords de Loire à vélo et canoë! "





On the 2021-05-27 by Fanny
Un grand merci à Vélo Voyageur pour leur réactivité quant à l'organisation de ce séjour que nous avions décidé de dernière minute! Tout était parfait: le matériel (le vélo, les sacoches étanches très pratiques et suffisamment grandes), l'accueil et la gentillesse des prestataires, le standing des hôtels très charmants et les petits-déjeuners très bons! L'application qui permet de se guider et de suivre le parcours est très bien développée. Un + pour l'audio-guide et la recommandation de certains endroits. Nous n'hésiterons-pas à renouveler l'expérience avec Vélo Voyageur sur d'autres circuits :-)
" Loire Adventure "





On the 2020-08-17 by Emma
Great trip, really well organised with clear information provided from start to finish. Lovely varied route with plenty of things to do along the way with our two children. High quality bikes and beautiful places to stay. Felt like a real adventure, especially with the day canoeing to break up the riding. The trailer bikes were a good option for us as although it was an 'easy' route it was quite hilly in places so would have been difficult for our 6 and 9 year old on their own bikes.
" Séjour formidable "





On the 2020-08-11 by Gilles
Nous avons passé un excellent séjour. Tout était parfaitement organisé. Des hôtels très agréables aux étapes, un trajet en canoë inoubliable, des parcours à vélo variés et très agréables.
" belle expérience "





On the 2020-08-03 by BRUNO
première expérience en famille avec des grands ados 18, 15 et 13 ans. de Tours à Saumur en 4 jours tout le monde a apprécié : distances raisonnables se combinant aux visites des chateaux
" Une belle semaine sur la Loire "





On the 2020-08-03 by Daniel Daester
4 jours sur la Loire à Vélo entre Tours et Saumur avec ma fille Alicia, un séjour extrêmement bien organisé dans une belle région de villages soignés, de nombreux châteaux et où les hôteliers nous ont réservés un accueil simple et chaleureux. Nous avons aussi été impressionné par la gentillesse des gens rencontrés, bonne humeur et humour. Nous soulignons également le sérieux des mesures appliquées par tous les commerces, hôtels....pour la lutte contre le virus.
" La Loire tranquille "





On the 2019-09-27 by Laurent
Une bonne expérience a revivre
" La loire en famille "





On the 2019-09-02 by FREDERIC
Excellent séjour en famille (3 ados) et bonnes prestations hôtelières Petit bémol sur le service de canoé
" Agréable séjour "





On the 2019-08-18 by ALEXANDRE
Une première pour nous avec ces vacances à vélo Très agréables, nous avons passé un bon moment en famille à la découverte des châteaux de la Loire
" super séjour en amoureux "





On the 2019-08-17 by Lucile
Un mix entre culture et sport que nous avons bien appréciés parcourir à 2. Toutefois, il est bon de noter la présence de forte montées sur le parcours.
" velo voyageur Loire "





On the 2019-08-08 by WILLIAM
beau séjour très bien organisé, tout est prévu pour la satisfaction du client, merci pour le professionnalisme, la réactivité et la gentillesse des personnes contactées par téléphone !!
" Tours à Saumur côteaux de Loire "





On the 2019-07-26 by Jacques
Votre organisation est parfaite et nous l'apprécions beaucoup depuis plusieurs années .
" 5 "





On the 2019-06-20 by Charles
Nous recommandons le parcours des châteaux de la Loire, après avoir récupéré nos vélos facilement nous avons pu apprécier les paysages et profiter de nuits confortables dans les hôtels réservés. De belles surprises tout au long du parcours, nous repartirons avec le Vélo Voyageur les yeux fermés !
" Un enchantement "





On the 2019-06-05 by maryse
4 ados, 4 adultes, nous avons pédalé, pagayé sur les chemins de cette magnifique région, de franches rigolades et quelques souffrances pour les non initiés! Les visites culturelles, gourmandes nous ont enchantés ! Nous rentrons des souvenirs plein les yeux !
" Belle escapade de 4 jours en famille ! "





On the 2019-05-13 by Philippe
Très bon séjour, bien organisé, sans soucis particulier. La pré-réservation des visites des châteaux était bien (nous avons ajouté la visite d'Ussé). Il a juste fallu réajuster les horaires la veille pour la journée en canoë pour pouvoir en profiter sans stress, mais l'organisme s'est finalement montré ouvert. Même si tous ne sont pas du même standing, les hôtels sont vraiment très confortables et la cuisine excellente; ils ne se ressemblent pas et chacun a son charme ! Seul bémol, l'un d'eux ne proposait pas d'ascenseur (un peu dur pour monter les bagages après une journée de vélo...) mais par contre, la chambre offrait un panorama splendide sur le château de Montsoreau et la Loire !
" très favorable "





On the 2019-05-01 by herve
Très bonne expérience, à refaire!
" A good time in France! "





On the 2018-10-21 by P & Z
Well organized. What a great way to experience France.....on an E-bikes no less.
" Cyclcing in the Loire Valley "





On the 2018-09-16 by Emmanuel
The cycling was great, castles to visit were nice and varied, most hotels were very good, food advice was good in general. The pace was well thought, and we enjoyed our trip very much. We had a very good time cycling in the Loire Valley and visiting local towns and castles. The trip was very well organized by Velo Voyageurs, with very clear roadbook. Hotels and food were great, except the Hotel Plantagenet, which was very disappointing and shouldn't be in the list of selected hotels
" Agréable "





On the 2018-08-21 by sylvain
Malgré quelques problèmes sur un vélo au début, le séjour était bien organisé (transferts de bagages et hôtels sans soucis), et le parcours "Loire à vélo" (globalement identique au roadbook) est bien fléché sur place, ce qui permet de ne pas avoir à sortir la carte trop souvent c'est agréable.
" Balade de Tours à Saumur "





On the 2018-07-28 by Catherine
séjour très bien organisé : bagages, vélos, canoë l'option canoë entre Chinon et Montsoreau est vraiment à recommander : super balade sur la vienne sauvage (oiseaux, ...). des supers paysages sur notre parcours.
" Séjour remarquable "





On the 2018-07-15 by Joelle
Le trajet entre Tours et Saumur est sublime, les hôtels proposés sont bien choisis, et les gens très accueillants. Si vous ne faites pas trop de vélo, on conseille le vélo électrique, qui permet de se balader à un rythme idéal. Le passage en canoë est génial.
" Perfection! "





On the 2018-06-25 by Wendylea
We spent 5 glorious days biking and canoeing from Tours to Saumur and it was absolutely amazing. Beautiful rides, top- notch accommodations and flawless arrangements with canoeing connection, luggage delivery and hotel check-ins. This was our second trip with Velo and will not be our last. Highly recommended.
" De supers vacances !! "





On the 2018-05-16 by Régis&Mélanie
Nous avons adoré notre séjour organisé par Le Vélo Voyageur ! Pas de prise de tête, tout est pris en charge : l'itinéraire, les différentes étapes (hôtel et demi pension pour nous), le transport des bagages, c'est absolument parfait ! C'était notre premier voyage à vélo et en plus de cette très bonne organisation, nous avons eu la chance de faire la Loire à vélo sous le soleil. De très bons souvenirs que nous ne manquerons pas de raviver avec un autre séjour !
" La Touraine en douceur "





On the 2018-05-06 by PATRICK
Une formule idéale pour découvrir une région si attachante tant pour son histoire que ses paysages.
" super "





On the 2017-09-16 by anne
organisation impeccable
" Loire à vélo "





On the 2017-08-26 by Babeth
Super voyage, organisation parfaite, hôtels au dessus de nos espérances ( catégorie 2). Merci pour ce super séjour organisé mais qui laisse toute l'indépendance dont on a besoin sur la route.
" Que du bonheur "





On the 2017-07-28 by Marc et Sophie
Découvrir une région à vélos électriques permet de bouger sans s'épuiser et donne une belle occasion de rencontres et de découvertes au rythme de la détente, de l'échange, du bien-être... Que du bonheur!
" Le parfait voyage en amoureux "





On the 2017-06-29 by samuel
4 jours hors du temps, à travers des villages remplis de roses. Chaque jour, une ambiance differente, un dépaysement intense pour nous qui habitons la Martinique. Magnifique, bravo et merci le velo voyageur !
" belle expérience à vélo! "





On the 2016-09-25 by laurence
Très agréable périple de Tours à Saumur: 3 jours de vélo et un de canoë; circuits bien sécurisés et variés, riche patrimoine touristique, organisation parfaite du début à la fin, tout est bien prévu et expliqué donc aucune perte de temps, juste le plaisir de profiter ! cette première expérience nous a enchantée et il est vrai que le mois de septembre est idéal pour pédaler , pagayer ou visiter au calme... coups de coeur: -château de Villandry avec ses magnifiques jardins -château de l'Islette, plein de charme -grottes pétrifiantes, très originales -hôtel:" les demeures de la Vignolle" et le restaurant "Bistroglo" dans le site troglodyte
" découverte "





On the 2016-09-17 by Jacques
de magnifiques endroits, une super organisation, des hôtels de rêve tout pour une expérience magnifique
" Just what we wanted "





On the 2016-08-27 by Andrew
A wonderful trip. Well organised, good accomodation, and new, well maintained bicycles. The luggage delivery was particularly welcome at the end of a days cycling in the summer warmth. Some of my favourite holiday memories from this trip.
" Très belles expérience et découvertes "





On the 2016-08-09 by patrick
Nous recommandons ce séjour en particuliers (4 jours, assistance électrique sur les vélos, départ Tours arrivée Saumur, châteaux et dégustations de vin + hôtels ***) et Le vélo voyageur en général disponible pour répondre à nos questions et très efficace à tout point de vue Merci à vous nous avons adoré l'expérience et recommencerons certainement
" Expat in France "





On the 2015-10-26 by Julie
Our bike trip through Loire was amazing! I have recommended your service to my neighbors and colleagues. You made it very easy, which led to a relaxing, fun, and totally enjoyable trip.
" marie "





On the 2015-09-28 by marie
organisation parfaite, accessible au plus grand nombre, de belles découvertes.
" Excellent ! "





On the 2015-08-18 by Marsu's Family
Notre petite famille a apprécié le parcours, les visites, le canoë et les hébergements. La logistique a assuré sans problème (bagages, etc.). Le parcours est plaisant (peu de voitures) et parfaitement décrit sur le road-book. Merci beaucoup, à refaire !
" All the person in Loire will help you "





On the 2015-08-15 by SOUN
I am a Korean. I am very short in English but also I don't nearly know in French. But there was not any problem in my trip. After this 4-days trip, I traveled the other place for more long days Paris, Strasburg etc. But velo-voyage was the best. I heard in Africa,"To raising a child, need hole town people's help." I felt that all the person in Loire help me for my successful traveling. All the people who I met in the road were kind and having beautiful smile. (If you want to know the most beautiful French's smile, then go to Le Grand Monarque hotel in Azay-le-Rideau.) I will never forget the beautiful landscape, beautiful castle and beautiful town with various flowers in Loire valley. But perhaps I will remember the beautiful person for a long time more than the magical scenery. I thank God and velo-travel performers for giving me this beautiful present.
" Woodford's (UK) "





On the 2015-07-10 by John
We had a great trip with le Velo Voyageurs. It was well organised and left us little to do but enjoy the ride. We had a 4 day trip from Tours to Saumur, including one day in a canoe. The riding was easy and the canoe trip a real change from the cycling. Would recommend this trip to anyone. The pace was easy, so we had plenty of time to spend together. Brilliant accommodation in Tours, Azay le Rdeau and Montsoreau. Brought back great memories of the trip.
" Tours-Saumur "





On the 2015-07-06 by Véronique
C'est un très beau circuit; l'accueil et l'organisation du séjour par le Vélo voyageur sont parfaits
" MICHEL "





On the 2015-05-29 by MICHEL
A l'année prochaine ! si vous nous proposez la suite
" Karen "





On the 2015-05-21 by Karen
We all had an amazing biking trip. The bikes & accommodations were great, and the proficiency of Velo Voyageur was outstanding. The bike signs along the trails were very helpful and the quick responses to any of my requests was greatly appreciated. Looking forward to booking with you again!!
" un moment convivial !! "





On the 2015-05-17 by PATRICK
Partis à 6 ( trois couples d'un certain âge) nous avons découverts la région dans d'excellentes conditions d'hébergements et des prestations de qualité qui nous ont fait passer 4 jours entre Tours et Saumur dans une ambiance sportive mais toujours très raisonnée avec des haltes remarquables .
" A wonderful way to discover France "





On the 2014-10-30 by Discover France cycling is the only way
Le velo voyageur has done an excellent job in putting a tricky trip together. The accommodations are outstanding, their preparation in satisfying customers is high and the standards are also high. We recommend their services very strongly and we have promised ourselves to do more of their trips.
" A Great Experience "





On the 2014-10-07 by Pamela
My husband and I had a wonderful experience cycling the 4 day escape between Tours and Saumur, September 16 to 21. Thunderstorm forecasts prevented the canoe day, but that didn't dampen our enthusiasm. The bikes were great, including the computer, the panniers, both front and back, and the rain covers for rain. The hotels were delightful and so were the meals. I'd highly recommend cycling with Velo Voyageur. I particularly loved that the cycling days were reasonably short so that we could relax, tour castles, and just soak up the Loire Valley ambience. I'm so happy we chose you for our cycling experience! We have cycled with other companies and we think yours is the best so far! Thank you again! My only regret is that we never did get to meet you!
" Excellent ! "





On the 2014-09-03 by Frédérique
Excellent séjour vélo / canoë avec Vélo voyageur! L'organisation est parfaite, les hôtels et restaurants soigneusement sélectionnés, les vélos de bonne qualité. Nous avons été ravis comme la fois précédente.
" Montsoreau/Saumur "





On the 2014-08-29 by Jean-Pol
Excellente impression d'ensemble
" Séjour vélo/canoé "





On the 2014-08-25 by Yannick
De superbes vacances, avec des hôtes hôteliers où retaurateurs très accueillants. Organisation parfaite et prestations vraiment au TOP. A refaire sans hésiter.
" A Wonderful holiday "





On the 2014-06-10 by Penelope
Overall this was an excellent holiday . It was very well organised, we had NO difficulties at all. The hotels we stayed in were lovely and all staff were very helpful and welcoming. I would recommend this holiday to anyone who enjoys easy cycling, the countryside and wants to discover more of France.
" Retour de rando "
Notre petite troupe de la rando velo tenait à vous dire que nous avons passé un excellent séjour à pédaler sur ces charmants chemins entre Tours et Saumur, et ce malgré une météo plutot humide et capricieuse : nous sommes maintenant très rapides dans le déballage du kway ! les hotels, resto et loueurs ont été tous très accueillants, la logistique également, et le fléchage très clair. Merci beaucoup à tous pour votre accueil et votre organisation.
" Great service "





On the 2013-07-21 by Simon
Eugenie, our trip was fantastic. My wife is not a rider so the electric bike made it possible for her to join in, The hotels were wonderful - centrally located and good quality, and all the logistics worked perfectly. Thanks very much, from Sydney.
" Fantastic from start to finish "





On the 2013-06-04 by DHC
The trip was seamless from start to finish. EAsy to communicate and prompt replies over email. Itinerary that we got was outstanding. Hotels that were booked were incredible. Just about one of the best things we have done in Europe. I have recommended to all my friends and family