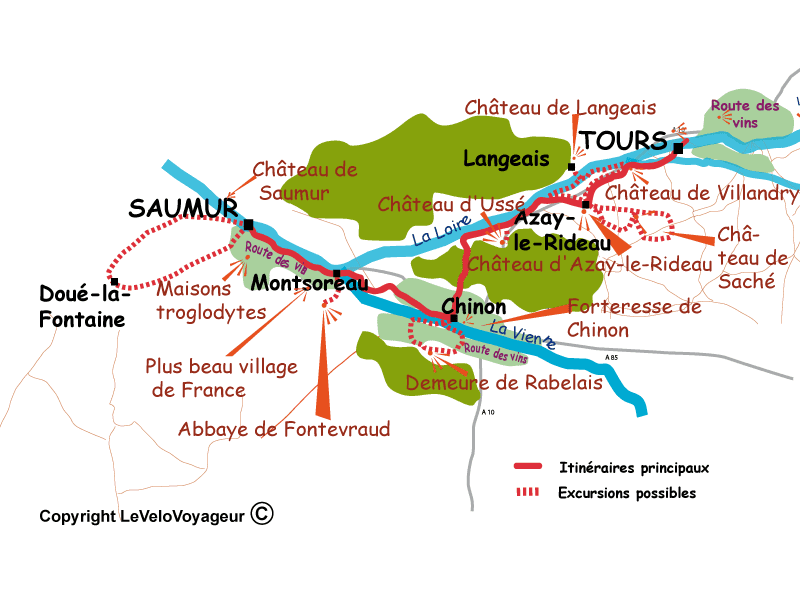 Encounter the breathtaking beauties of the Loire valley by riding on the "Loire à vélo" route between Tours and Saumur. Meandering between the Loire valley and the Vienne valley, the route goes on little country roads passing by the most prestigious castles in Loire such as Villandry, Azay-le-Rideau or Ussé, the castle of the Sleeping Beauty. You will not only admire the changing colors of the Loire River, the traditional boats swinging between the sand banks, but also the vineyards of Chinon and Saumur or the Fontevraud Abbey. You will also see many cave houses all along the way. Give in to the magic of a cycling holiday in Loire.
DAY 1

Tours

Discover the charming old neighborhood in Tours boasting many half-timbered houses. Stroll around and visit Saint-Gatien cathedral, the Wilson bridge and Plumereau square.

DAY 2

You wind on the cycling path along the Loire to leave Tours and reach the château de Villandry with its beautiful French gardens. Enjoy the banks of the Loire Valley before riding up through forests towards the château d'Azay-le-Rideau.

DAY 3

You can either enjoy a rest day in Azay-le-Rideau to quietly visit the castle or explore the surrounding villages on beautiful country roads. You start by learning all about the wickerwork in Villaines-les-Rochers, then go through Saché and its castle, famous for regularly hosting the French writer Honoré de Balzac. Then, you ride down to Pont-de-Ruan, village at the confluence of several rivers that flow into the Indre. You can visit the miller's house in order to discover the history of the mills of the village.

DAY 4

Keep on cycling on « Loire à vélo » and ride on the dike to get to the château d'Ussé which inspired the Sleeping Beauty fairy tale. You enter into Chinon overlooking the old town. Enjoy the labyrinth of medieval narrow streets when you ride down the Vienne River.

DAY 5

Day-trip to the Chinon wineyards

You can choose to spend your day chilling in the medieval town and visiting the fortress, or choose to ride your bike in the surrounding vineyards and hills. If so, don't miss the former house of the French writer Rabelais which is called "La Devinière". Don't forget to stop in one of the local wine cellars to taste the Chinon wines.

DAY 6

Chinon - Fontevraud

Choose between canoeing or biking

TWO OPTIONS :

You can choose to exchange your bicycle for a canoe and float along the Vienne River to Montsoreau and finish your day by bike to Fontevraud, or continue cycling to Fontevraud and visit its beautiful abbey.

OPTION 1 : Canoe ride to Montsoreau and cycling to Fontevraud

4h

Enjoy a canoe ride to discover the beauty of the Loire valley from the river side. You arrive in the gorgeous small village of Candes-Saint-Martin built with freestone. Keep on to Montsoreau which is one of the "Loveliest Villages in France" built around its castle. You land right next to the castle, take your bike back and continue cycling to Fontevraud (10 km).(From 6 years on and able to swim only. If you are not able or if you do not want to do this activity, you will keep on with your bike to Montsoreau). Not available after the 30rd of September.


Included

OPTION 2 : Biking to Fontevraud

3h

Ride first along the Vienne river through the beautiful white freestone villages of Candes-Saint-Martin and Montsoreau. Keep on the hills to Fontevraud which is worth visiting for its magnificent abbey which shelters the tombs of Richard the Lionheart and Eleanor of Aquitaine.


Included

DAY 7

Fontevraud - Saumur

2 route options

Today's route alternates between cave houses and vineyards. Then, you can choose to ride along the Loire or through the hills. Both paths lead to the village of Souzay-Champigny where you ride among beautiful cave houses. Stop by to taste the wines of Saumur. At the end of this charming route, you discover the city of Saumur and its castle with impressive dungeons.

DAY 8

Departure from Saumur

Discover the charming old neighborhood of Saumur and the imposing castle over the city. This city is the capital of equestrian art and a main spot of French cuisine and in the center of a very rich wine region

If you want the regional train takes you back to your starting point or you can also extend your stay.
Bikes
On your arrival day, we provide you with:
a touring bike adjusted to your size or a tandem
equipped : front rack pack with an integrated file compartment, saddlebag, helmet (on demand), reflective vest, repairing toolkit with patches etc.
We also provide you with the appropriate equipment for your children :
baby seat, bike trailer or trailer bike depending on their age and size
.
Electric bikes are also available for adults (+1m55).
You can of course also bring your own bikes, in this case a reduction will be applied (see the Tarif tab)
Luggage
Our services include luggage transport in order to let you enjoy your trip comfortably and without stress :
We transport your luggage from one accommodation to the next using a private vehicle.
Your luggage is directly delivered in your accommodation before you arrive.
We provide a saddlebag for the things you shall need during the day.
Our word of advice :
as we know from experience, we strongly recommend you to avoid wearing a backpack during your cycling trip.
Travel documents
A cycling holiday is the best way to explore a region and discover its culture, landscapes and local traditions.
Your tour is self-guided to give you the freedom to ride at your own pace. You will be provided all the information you need to enjoy the itinerary and its points of interests.
Our documentation contains a very detailed description of the itinerary. No matter how you usually navigate, you will find your way thanks to our comprehensive guidance material including:
a roadbook with maps that we drew at the easiest scale to follow on a bike

a roadbook with step-by-step description giving the direction to follow at each intersection and highlighting the points of interest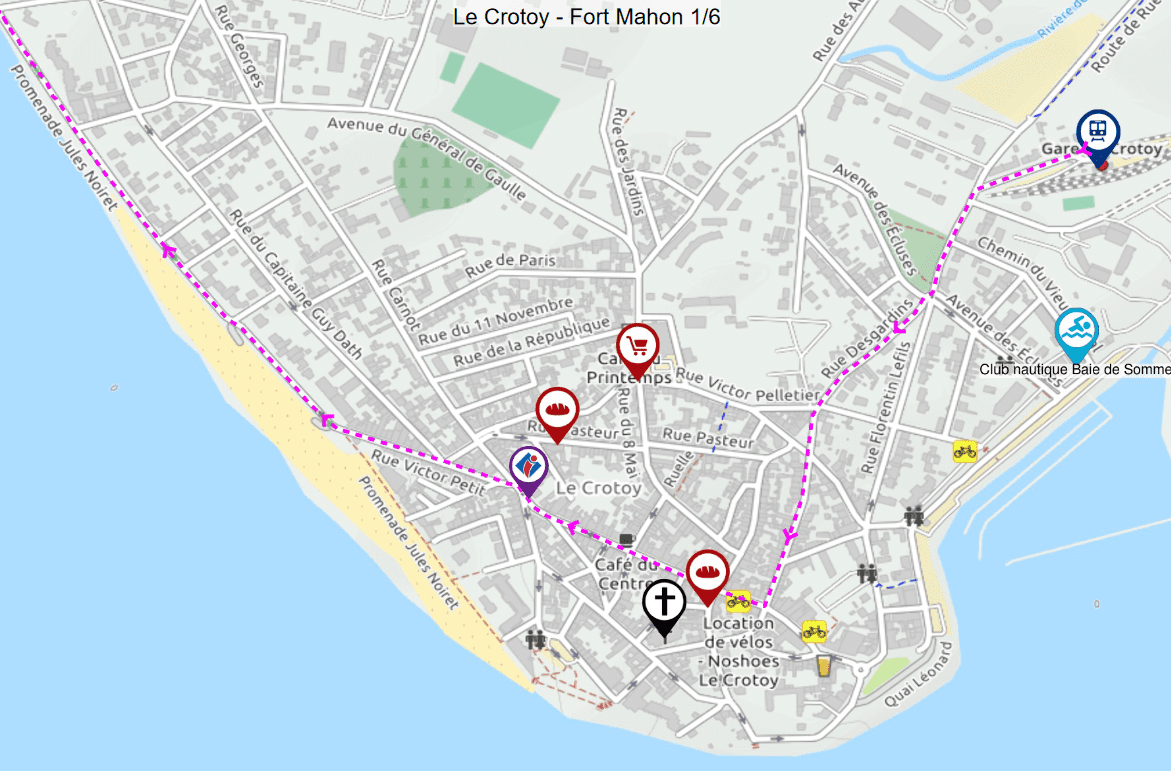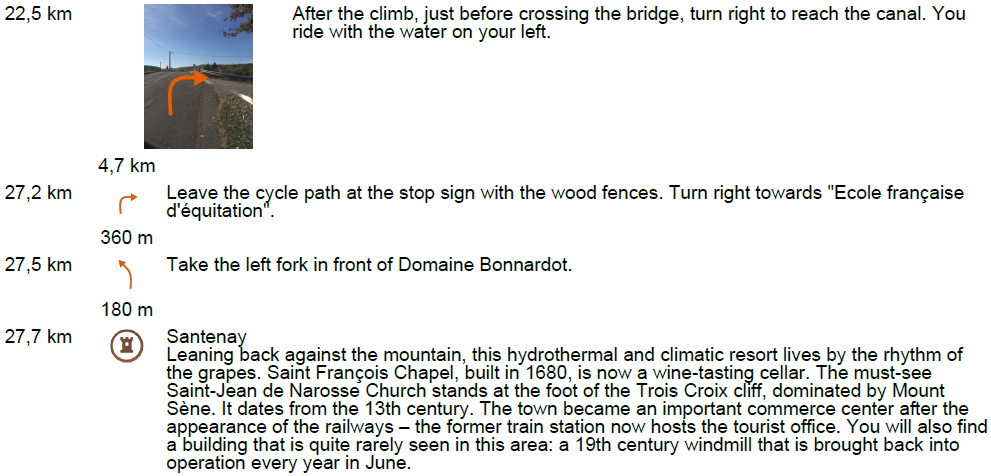 Example of a map and of a step-by-step description


Our GPS App
For this trip, you can also use our smartphone app featuring GPS guidance (without extra fee).

You will find in the app all the information given in the map and step-by-step roadbooks. You will be located on the itinerary with the GPS device of your phone. The route and directions to follow will be both viewable on the screen of your phone and announced aloud. As you ride along the itinerary, you will be given information about visits, restaurants, services and useful alerts on the way.

-> You need to have a smartphone and download Le Velo Voyageur app on your Apple or Android store before the trip. All details concerning the downloading and the use of the application will be given after we have confirmed the booking and the balance is paid. Once the trip is downloaded, the GPS guidance can be used off-line.

35 bike travelers reviews





4.74 / 5
" Great time cycling in the Loire Valley "





On the 2022-08-05 by Ton and Kirsteen
We were a group of 2 adults, 2 kids (9 and 10years old) and 1 grandmother who just completed the Tours to Saumur cycle holiday. We all found it a fantastic experience and one we really want to repeat. The cycle route was so nice, passing numerous castles and vineyards and we enjoyed all the lovely, picturesque littles towns we stayed in. Everything was superbly arranged by Le Velo Voyageur for which we were really grateful.
" très belle expérience "





On the 2022-07-06 by Claude
je recommande sans réserve
" Entre Tours et Saumur "





On the 2019-09-16 by Benoît
Très beau parcours avec une multitude de choses à découvrir dans la région.
" Tour to Samuar "





On the 2019-06-26 by Warren
Our trip was absolutely fantastic. The route was really well sign_posted and there was so much to see and do each day. We stopped at some lovely restaurants along the route and our accommodation was of a really good standard. Everyone was very helpful and we had a great time and will certainly come back to do some more trips with velo voyageur.
" A cycling week from Tours to Saumur "





On the 2019-05-20 by Debra
Extremely enjoyable and quite the cultural immersion for a pair of Aussie retirees. Distances and sightseeing were well balanced.
" Top quality experience with a Top quality company. "





On the 2018-10-09 by Kay
We had an amazing trip.We are fit but in our 70's so were a little apprehensive. When we arrived at our lovely accommodation we were given our maps and documents.The following morning we picked up our bikes and were on our way.The bikes are in excellent condition so there was no trouble with our transportation.The distance between each village was great, and spending mostly two nights in each place made it relaxing.Our accommodation was delightful and very quaint.The cycling was fantastic,but we will let you discover that,as there are so many surprising days on this adventure.Thank you for taking us on this journey.
" Great experience "





On the 2018-07-30 by Vicki
A thoroughly enjoyable trip where we challenged ourselves to move out of our comfort zone by doing an activity which we had not done before. Riding in your home country occasionally is a very different experience to riding longer distances each day in a foreign country. A very pleasing outvome and highly recommended.
" Loire Tour 2018 "





On the 2018-07-19 by John
This was a throughly enjoyable experience. All arrangements made for us were up to and often exceeded our expectations. The itinerary was excellent taking us through beautiful countryside and interesting sites. The bikes we were given were fully equipped and very comfortable. Directions and maps were clear and easy to follow. The paths and roads are well signed.
" Séjour Tours - Saumur "





On the 2018-07-19 by Francine
Nous sommes des québécois et cette façon de voyager nous a permis de découvrir quelques villes de la France, d'une agréable façon.
" An enjoyable holiday "





On the 2018-06-23 by
This was an excellent holiday.
" Im Herzen Frankreichs "





On the 2018-05-05 by Hans-Peter
Vorbehaltlose Empfehlung für alle, die an Kultur und Gastlichkeit Frankreichs interessiert sind
" Loire-Reise "





On the 2017-09-11 by Kerstin Witt
Wir haben eine wunderschöne Loire-Fahrrad-Tour von Alzay l'Rideou bis Ancenis genossen. Eine Kanufahrt war in die Fahrradtour mit aufgenommen. Die Fahrräder waren hervorragend ausgestattet und das Kartenmaterial war sehr gut, so dass es keine Schwierigkeiten gab, die Strecken zu fahren. Der Schwierigkeitsgrad war wie offeriert. Unsere Unterkünfte waren alle hervorragend. Wir haben uns jeden Tag auf die neue Unterkunft am Abend gefreut. Die Reise hat uns allen (5 Personen) sehr viel Spaß gemacht und ist auf jeden Fall weiter zu empfehlen.
" Super séjour bien organise à refàire "





On the 2017-07-31 by CLAUDE
Très beau parcours tout est bien organisé et le rythme parcours vélo / visites bien dose et agreable
" Brian "





On the 2017-07-18 by brian
Great
" La Loire cycling "





On the 2017-06-14 by Kevin and Robyn
Great trip, well organised, excellent touring, sites, food and wine.
" Doulce Touraine "





On the 2017-05-05 by Jean-Claude
Superbe parcours très agréable
" A perfect vacation "





On the 2016-09-26 by M and M
We will be talking about our cycling trip from Tours to Saumur for years to come! Everything was taken care of for us. All we had to do is get on the bikes (which were great) and ride. We were both sad when we had to turn the bikes back in. Can't wait to book our next trip!
" Loire Valley - a great ride "





On the 2016-09-24 by Rowan
We really enjoyed this eight day cycle in the Loire Valley. The itinerary was well balanced with interesting landscape and cycle routes. The map books were excellent along with the cycles provided. Apart from the accommodation at Hotel Plantagenet in Chinon all the rest were excellent. This was our second trip with Velo Voyageur and on both occasions we have found them very good to deal with.
" Lovely family tour "





On the 2016-07-13 by Elisabeth
We had a wonderful week with cycling along and near the Loire. It was very nice with some options on the route (long and short), and also the possibility of taking one day off when we had two nights in the same hotel. The option with the canoe was also a success. It was the first time we travelled with Le Vélo Voyager, and we were very impressed with friendly service and help up front, and everything was perfect organized. We travelled with a child (9 years old), and we had all a very nice "Tour da France"!
" No hesitation ! "





On the 2016-06-27 by Mihail
excellent organization, no weak points, no problems.
" La Loire à Vélo, un régal ! "





On the 2016-06-08 by ANNICK
Comme en 2014, entre Blois et Amboise, nous avons été enchantées par notre périple de cette année entre Tours et Saumur. Une organisation au top, des itinéraires très agréables évitant au maximum la moindre petite route ; la région est vraiment faite pour les cyclotouristes et les pistes cyclables sont partout ! Les hébergements étaient très accueillants et réparateurs ! Les vélos de grande qualité étaient parfaitement équipés. Nous plébiscitons Le Vélo Voyageur !! Un grand merci et à dans deux ans !
" Maggra "





On the 2016-05-22 by Maggra
* Very good bikes and paniers. A trouble free ride. * Excellent hotels. * Faultless baggage and bike deliveries. * Lots of interest and variety along the route. * Velo Voyageur pre-tour organisation impressive. * A few mysteries in the directions but we never got lost. * Well done Velo Voyageur
" Just the right mix of sport, pleasure (wine) and culture "





On the 2015-09-16 by Christian, Dorte, Jakob and Anton
We had a gorgeous holiday with velovoyageur. Everything was well organised with a lot of love to detail like the travel documents, the chosen places to stay (lovely family rooms, very tasty and large, breakfasts one was looking forward to). We were very pleased with the quality of the bikes and the equipment, everything was nearly new and we had no problems at all during the trip. Most of the rides were off the main path which left us cycling on our own most of the week which was extremely relaxing and peaceful. The length and difficulty of the daily trips were just perfect for a family with kids. Though some bits were hilly the boys (8 and11) managed well, there was not a day they moaned. We arrived in the new place around 4 pm and after a shower and a little rest we had enough energy to explore the towns and surroundings/cultural sites. The canoe trip was a great change after a few days of cycling though it was harder than we thought. We will definitely plan another holiday with velovoyageur. Thanks for planning such a lovely week!
" Claire "





On the 2015-09-14 by Claire
La prestation est d'un très bon niveau. Le transport des bagages est très appréciables, la réactivité en cas de crevaison était excellente et la sélection des hôtels de charmes très agréable. Organisme à recommander !
" La Loire en Vélo "





On the 2015-08-30 by didier
première expérience de vacances en vélo, parcours intéressant. visites suggérées (châteaux) appréciées, par contre visites vinicoles ( particulièrement cave de La Herpinière sans intérêts) étape en canoë entre Chinon et Montsoreau très sympa.
" luc "





On the 2015-08-30 by Luc
J'aurai une remarque à vous faire était-il indispensable de prendre des hôtels 3 étoiles ? Surtout en vélo c'est la décontraction . Il serait plus sage de faire un peu plus simple surtout la dernière nuit nous avons eu une grande chambre a deux grands lits, à part ça tout était parfait.
" Québéquois a la découverte de la loire "





On the 2014-09-28 by Manon et Robert
Nous avons vraiment apprécié notre séjour a vélo dans ce magnifique coin de pays.La beauté des villages et l`architecture nous a vraiment enchanté. Nous avons eu du beau temps en prime !! Un vrai coup de coeur. Manon et Robert
" Super! "





On the 2014-08-15 by Laurence
Bonjour, J'ai été très satisfaite de mon séjour. Tout était très bien organisé et correspondait parfaitement à mes attentes. Les itinéraires étaient bien faits et bien balisés. Je recommanderai ce style de vacances à mes amis. Merci à vous. Mme PILLOT
" Bravo Vélo Voyageur ! "





On the 2014-08-05 by Camille
Des vacances en plein air, des découvertes et aucune prise de tête pour l'organisation ! Des vraies vacances, accessibles à tous, même aux non-entraînés !
" La Loire à vélo "





On the 2014-07-31 by Yves
Très beau parcours, bonne organisation, séjour des plus agréables. Merci.
" Magnifique tour! "





On the 2014-07-18 by Nils
C'est un tour de vélos que je conseille à tout le monde! Tous c'est passé comme sur des roulettes! Le vélo voyageur a fait un superbe boulot. Nous nous sommes régalés dans la vallée de la Loire: dégustations de vins, châteaux, visites de villes, cyclisme, simplement parfait!
" Berges de Loire et châteaux "
Les étapes sont équilibrées, on a encore de l'énergie pour visiter les châteaux, jardins et villages troglodytes. Bon choix d'hôtels et de petits restos du soir. L'organisation est parfaite et bien pensée, on sent que c'est du vécu. Grand merci à Eugénie et Bérangère , nous rêvons déjà de repartir.
" Zauberhafte Radreise im Loiretal "





On the 2014-04-22 by Hedi und Janne
Es war eine herrliche Radreise in einer wunderbaren Landschaft, sehr schönen Hotels, gutem Essen, ausführlichem und gutem Kartenmaterial, wonach wir alles gefunden haben, guten zusätzlichen Besichtigungstipps. Wir haben unser Ziel immer erreicht, die Steigungen waren auch für mich "Ältere"(fahre zu Hause nur selten und wenn, dann nur bei schönem Wetter) zu schaffen. Wir haben jeden Tag ein Schloss besichtigt - am besten hat uns auf unserer Route "Villandry" gefallen. Wir fanden es auch schön, so allein zu reisen und Ziele, Pausen etc. selbst bestimmen zu können. Vielen Dank für die Ausarbeitung und wir reisen bestimmt noch einmal mit Vélo Voyageur.
" Quand pédaler nous enchante... "





On the 2013-05-20 by Tulipe72
Excellent séjour au bord de la Loire, original et varié ! Peu sportifs, nous avons apprécié les trajets en vélo sur un terrain plat et dans un environnement enchanteur, à l'abri de la circulation. Les étapes proposées sont riches en visites et découvertes ! C'est sûr, nous retournerons pédaler lors de nos prochaines vacances !
" Expérience inoubliable en famille "





On the 2012-12-11 by Donatienne
Expérience inoubliable en famille! Très bien organisée, très bien adapté à des enfants au delà de 6 ans. Mix très agérable entre visite culturelle et balade à vélo. Au rythme de l'eau et du vélo.