Discover the secrets of the Loire Valley from Blois to Angers. On bike paths and small country roads you ride pass the most prestigious Renaissance castles of the Loire such as Chambord, Chaumont-sur-Loire, Chenonceau, Villandry, Azay-le-Rideau or Ussé, the castle which inspired the fairytale Sleeping Beauty. But this part of the Loire Valley also nests the abbey of Fontevraud and beautiful medieval castles and fortresses like Langeais, Chinon or Angers, which houses the largest medieval tapestry. You will discover the changing colors of the Loire Valley and the traditional boats (toues) swinging between sandbanks. The Loire Valley is worldwide known for its vineyards of Chinon and Saumur.
Day 1

Arrival in Blois

Start your tour by exploring Blois, with its cobblestone streets and meandering walkways. Cross the long stone bridge in the center of town for great views. Your highlight will be visiting Blois Castle, with intricate architectural details and manicured gardens

Day 2

Blois - castle of Chambord - Cheverny

2 route options

Enter chateau de Chambord's magnificent forest and take a peek at the sculpted salamanders engraved on the walls of Loire's most extravagant castle. Enjoy the shade of the hundred years old trees, then ride along the Cosson creek to the "château de Cheverny". This should bring up some memories, if you ever read Tintin: it was the inspiration for Moulinsart castle. In Chambord forest, you can make a detour through Neuvy to discover the Sologne country land and its many ponds.

Chocolate factory

1h

At the end of the guided visit you will enjoy different kinds of chocolates.

The factory is closed on mondays, except on july and august.

Included

Day 3

Cheverny - Amboise

2 route options

Stroll inside the château de Beauregard with its gallery of 327 portraits of famous European leaders that forged history between the 14th and the 17th century. Or choose to ride through vineyards before arriving in front of the drawbridge of Fougères-sur-Bièvre stronghold. Follow the toues (traditional boats) along the Loire to Chaumont-sur-Loire. This place is famous for its fairy-tale castle but also for its International Garden Festival which displays talented creations. Ride directly to the beautiful city of Amboise and let the medieval atmosphere of this city seduce you. Discover the architecture of the "château d'Amboise", which is iconic of the transition period from Gothic and Renaissance architecture.

Day 4

Amboise - Tours passing the castle of Chenonceau

Begin your day with an loop to the castle of Chenonceau. Through the forest and along the river's banks you reach one of the most iconic châteaux de la Loire, the "chateau de Chenonceau" overlooking the Cher river. To reach Tours old town and its half-timbered houses, you ride along the Cher river.

Day 5

You wind on the cycling path along the Loire to leave Tours and reach the château de Villandry with its beautiful French gardens. Enjoy the banks of the Loire Valley before riding up through forests towards the château d'Azay-le-Rideau. Keep on cycling on « Loire à vélo » and ride on the dike to get to the château d'Ussé which inspired the Sleeping Beauty fairy tale. You enter into Chinon overlooking the old town. Enjoy the labyrinth of medieval narrow streets when you ride down the Vienne River.

Day 6

Chinon - Saumur

2 route options

You continue to ride along the Vienne River and enjoy the view on the wild Loire banks. You arrive in the gorgeous small village of Candes-Saint-Martin built with freestone. You can stop to admire the XIIth century foundation church. Keep on to Montsoreau which is one of the "Loveliest Villages in France" built around its castle. From there, you have the option to keep on the hills to Fontevraud which is worth visiting for its magnificent abbey which shelters the tombs of Richard the Lionheart and Eleanor of Aquitaine. Otherwise ride straight to Saumur. On your yay you admire the cave house villages and stop to taste Saumur wines in the numerous wine cellars. Discover Saumur and its castle with impressive dungeons at the end of this idyllic ride.

Day 7

You exit Saumur and ride along peacefully the Loire through peaceful villages with a rich heritage. Do not miss the medieval churches in the villages on your way. In Treves, you can see the famous 30m high tower, the last remnant of a fortress built in the 15th century! Before reaching Gennes, ride through a forest and along a pond, which offers one of the most beautiful areas of the Loire to picnic and relax. Then, you cross the Loire and the Loiret in Ponts-de-Cé and ride down the Loire to the confluence of the Maine. Finally, Angers appears with its castle, its fortress and its lively streets.

Day 8

Départure from Angers

You discover the living city of Angers before going back.

The regional train takes you back to your starting point or you can extend your stay if you wish.
Bikes
On your arrival day, we provide you with:
a touring bike adjusted to your size or a tandem
equipped : front rack pack with an integrated file compartment, saddlebag, helmet (on demand), reflective vest, repairing toolkit with patches etc.
We also provide you with the appropriate equipment for your children :
baby seat, bike trailer or trailer bike depending on their age and size
.
Electric bikes are also available for adults (+1m55).
You can of course also bring your own bikes, in this case a reduction will be applied (see the Tarif tab)
Luggage
Our services include luggage transport in order to let you enjoy your trip comfortably and without stress :
We transport your luggage from one accommodation to the next using a private vehicle.
Your luggage is directly delivered in your accommodation before you arrive.
We provide a saddlebag for the things you shall need during the day.
Our word of advice :
as we know from experience, we strongly recommend you to avoid wearing a backpack during your cycling trip.
Travel documents
A cycling holiday is the best way to explore a region and discover its culture, landscapes and local traditions.
Your tour is self-guided to give you the freedom to ride at your own pace. You will be provided all the information you need to enjoy the itinerary and its points of interests.
Our documentation contains a very detailed description of the itinerary. No matter how you usually navigate, you will find your way thanks to our comprehensive guidance material including:
a roadbook with maps that we drew at the easiest scale to follow on a bike

a roadbook with step-by-step description giving the direction to follow at each intersection and highlighting the points of interest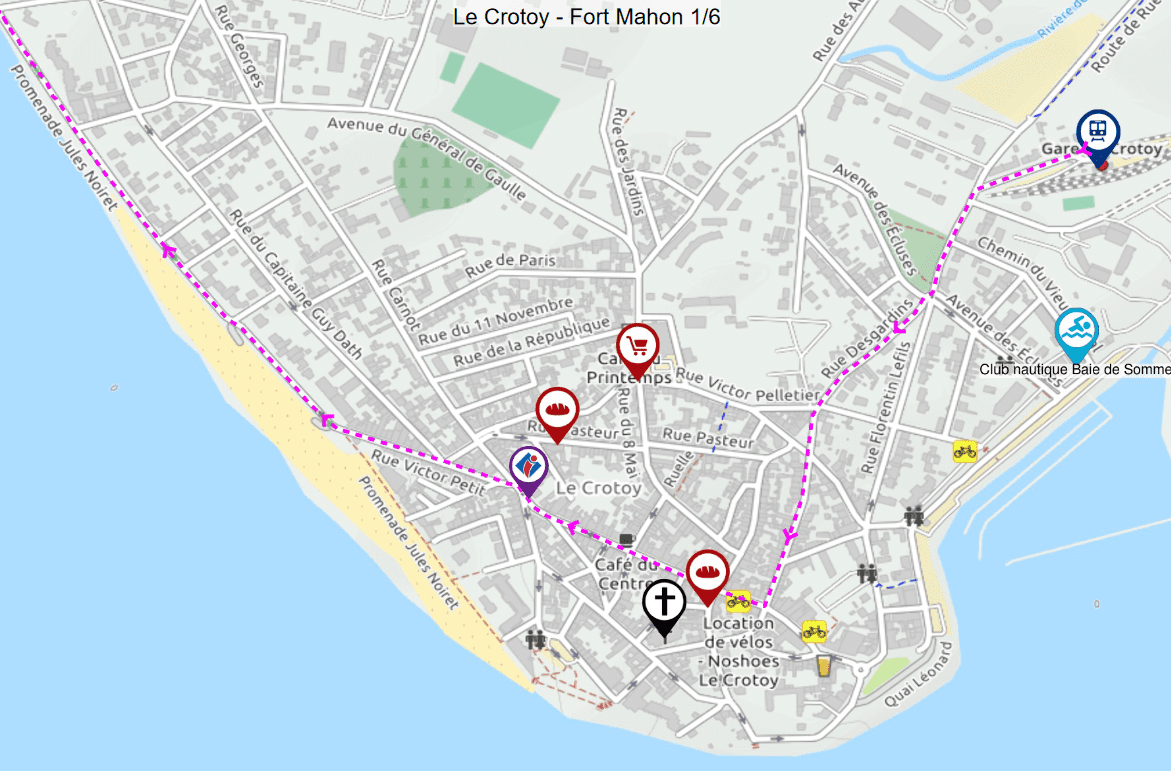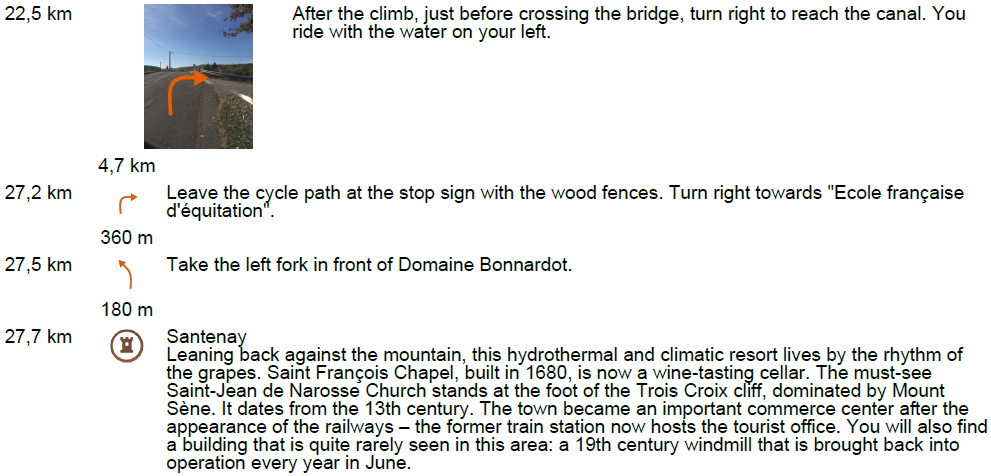 Example of a map and of a step-by-step description


Our GPS App
For this trip, you can also use our smartphone app featuring GPS guidance (without extra fee).

You will find in the app all the information given in the map and step-by-step roadbooks. You will be located on the itinerary with the GPS device of your phone. The route and directions to follow will be both viewable on the screen of your phone and announced aloud. As you ride along the itinerary, you will be given information about visits, restaurants, services and useful alerts on the way.

-> You need to have a smartphone and download Le Velo Voyageur app on your Apple or Android store before the trip. All details concerning the downloading and the use of the application will be given after we have confirmed the booking and the balance is paid. Once the trip is downloaded, the GPS guidance can be used off-line.

13 bike travelers reviews





4.92 / 5
" Loire Valley Cycling Trip. "





On the 2022-09-12 by NB
Velo Voyageur organized an excellent Loire Valley cycling trip for us. The bicycles, hotels, meals, routes were very well arranged and most enjoyable. Thank you.
" 25 châteaux en 6 jours de vélo "





On the 2022-08-27 by François
En commençant ce voyage, je savais que j'allais avoir un CpH (Châteaux par Heure) élevé, mais pas à ce point! Voyager l'esprit tranquille dans des itinéraires judicieusement sélectionnés, la seule chose que j'avais à faire était de pédaler et de regarder des châteaux. Ça, ce sont de véritables vacances!
" Belle expérience "





On the 2022-08-03 by ANNE
2ieme expérience avec le vélo voyageur avec nos vélos personnels. L'organisation est parfaite, l'accompagnement avant, puis la documentation fournie, l'application GPS, le transport des bagages...sont un plus pour nous permettre de profiter au maximum de notre séjour N'oubliez pas de lire cette documentation avant votre départ Nous avons apprécié les visites de la chocolaterie et des caves Vouvray qui nous ont également permis de souffler pendant cette semaine de grande chaleur Très beaux paysages variés Les hôtels en catégories A sont corrects dans l'ensemble,1 seule chambre manquait d'équipement de ventilation que nous aurions apprécié. Hâte de choisir notre prochaine destination
" La Grand Tour "





On the 2022-07-11 by David
A very enjoyable tour, encompassing a wide range of Chateaux, vineyards and other attractions. Very well organised. Routes are very clearly sign-posted and generally stick to paths and back roads. Options were provided to adjust the distances we travelled each day. We stayed in a range of hotels from 2 star to 4 star. Difference basically boiled down to whether there was AC and a fridge in the room. Breakfasts did not vary much between properties. Luggage transfers worked well (though few hotels bothered to put the bags in our room). Locals tried hard to dissuade us from swimming in the Loire, but there were other wild swimming opportunities to be had. Every town we stayed in was lovely with no shortage of restaurants and things to see and do.
" La Loire à vélo tout confort "





On the 2021-06-26 by Fabien
Merci pour cette superbe prestation qui nous a permis de découvrir la vallée de la Loire en vélo ! Vélos de grande qualité et cartes fournies (y compris GPS) qui nous ont bien aidés à parcourir ces 350km dans de très bonnes conditions. Nous réitérerons sans nul doute ailleurs en France voire à l'étranger ! Encore merci :-)
" Loire Valley Trip "





On the 2019-07-07 by Edward
The communications with LVV were very timely and thorough. All trip information was very complete and helpful. The price is good value. Hotels were all very good - a couple without air conditioning made for some difficult nights given the unseasonably hot and humid weather. The rental bike and gear were all excellent with no problems at all. GPS files worked well with my personal Garmin unit. Luggage transfers all went smoothly. I used 'The Fork' app to find great local restaurants every night. Overall an excellent trip and I plan to book every year with LVV for at least one trip per year. Thank you. Well done!
" Châteaux et guinguettes "





On the 2017-08-26 by nicolas
Un beau circuit traversant des sites magnifiques et avec des étapes gastronomiques et vinicoles très agréables. Accessible à tous. Il faut juste être un peu en forme pour soutenir le rythme...ou choisir le vélo électrique.
" A faire "





On the 2017-07-29 by Roland
Concept super pour visiter la Loire à vélo - Vacances 3 en 1 : Sportives - Culturelles - Gastronomiques, dans une région magnifique
" LA LOIRE FACILE "





On the 2017-06-22 by Claude Gasser
BEAU PARCOURS TOURISTIQUE ET SPORTIF
" La Loire à vélo pour 8 Alsaciens "





On the 2017-06-22 by Jean-Marie Spindler
Dans l'ensemble très bonnes prestations, comparables avec les meilleurs spécialistes étrangers. Vélos, circuits, organisation, hôtels et restaurants proposés impeccables. Grand BRAVO à VéloVoyageur!
" La Loire à vélo "





On the 2016-08-20 by SYLVIE
vélos de très bonne qualité, explications pour le parcours très bonnes, diversité des parcours très agréable, distances journalières adaptées, bon choix des hôtels (proches du centre-ville et des sites à visiter, bonnes qualité des prestations, calmes) sauf celui de la dernière nuit (bruyant, pas de climatisation, niveau inférieur aux autres),
" Super Voyage !! "
On the 2016-07-19 by VERONICA
Excellent voyage, quelle organisation !!! On a adoré du début à la fin! La qualité des vélos est excellente et les prestations hôteliers aussi!!! Toutes les personnes qu'on a rencontré pendant notre trajet on été merveilleuses...! On avait demandé un séjour sportifs et on l'a eu. Merci beaucoup !!!!!!!
" Wonderful family trip in the Loire. "





On the 2014-08-28 by Corbet
Our family trip from Tours to Angers proved to be an ideal vacation for the four of us. The bike routes took us through beautiful country, and the easy pace allowed us to stop at Chateaux and wineries, churches and gardens. We admired the many lovely small villages and appreciated the bike paths that avoided busy roads. We selected the "B" grade accommodations, and these were good quality, quiet and welcoming, and several were truly outstanding. We appreciated being able to stay two nights in several towns, because it gave us more time to explore. The distances to bike each day were just about right, and all the information provided was helpful. This trip exceeded our expectations.