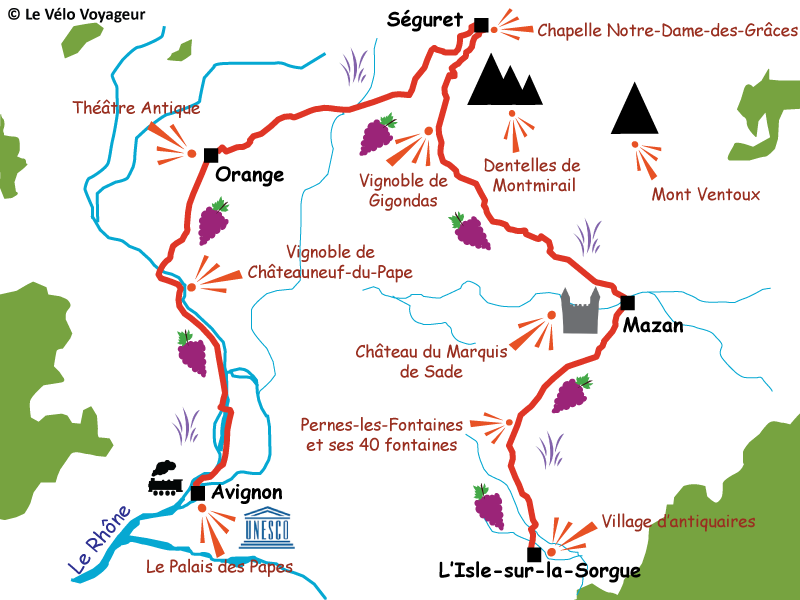 Hop on your bike and explore the colorful and fragrant roads of Provence, between lavender fields, olive trees and hilltop villages. You start your bike tour in Avignon, the city of Popes with its rich artistic and architectural heritage. Then, after riding through the famous vineyards of Châteauneuf-du-Pape, reach Orange and its ancient theater. With the rocky "Dentelles de Montmirail" in the background, ride through the countryside to Séguret, one of the most beautiful villages in France. Cross on your way many small typical Provencal villages and reach Mazan, at the foot of Mont Ventoux. Finally, your last stage takes you to Isle-sur-la-Sorgue, a former fishing village, renowned today for its numerous antique shops. Breathe the beautiful scents of Provence during a delightful breakaway !
Day 1

If you like, explore Avignon some more this morning. This UNESCO Heritage site has plenty to see. Afterwards, you''ll leave the city along the Rhone River and pass through picture-perfect villagesin the countryside. After crossing the river, you'll reach the world-famous wine village of Chateauneuf-du-Pape. Be sure to sample some of these great wines! Your daily tour ends with a leisurely ride through the vineyards to Orange and its ancient Roman theater.

Day 2

You'll leave the historic city center to reach the surrounding plains of Orange. This route takes you past the intriguing rock formation known as "Laces of Montmirail". the rocks have been finely chiseled by erosion, giving them a "lacey" appearance. you'll pass several wineries where hosts will share their knowledge of winemaking with you. Continue until reaching the town of Seguret

Day 3

This morning's tour leads you through the 'Grands Crus' of the Rhone Valley as you discover villages such as Gigondas, Vacqueyras and Beaumes-de-Venise. Follow the path on quiet, back country roads between scented lavender fields and olives trees. Stop in the towns of Carromb, Modène and Saint-Pierre-de-Vassols and explore the uniqueness of each place. your final destination is Mazan, with its historic town center.

Day 4

Mazan - L'Isle-sur-la-Sorgue

You'll head South this morning to reach the former capital of the Combat Venaissin, Pernes-les-Fontaines. The town has preserved many medievals remains, including forty fountains! The next part of the route follows alongside the Carpentras Canal, where you'll reach the enchanting town of L'Isle-sur-la-Sorgue. This former fishing village was built on stilts in the 12th Century. Today, the town is known for its many antique shops. If you are looking for a bargain, check out one of the 350 secondhand goods dealers!

Day 5

Departure from L'Isle-sur-la-Sorgue

You leave after a last walk in L'Isle-sur-la-Sorgue.
Bikes
On your arrival day, we provide you with:
a touring bike adjusted to your size or a tandem
equipped : front rack pack with an integrated file compartment, saddlebag, helmet (on demand), reflective vest, repairing toolkit with patches etc.
We also provide you with the appropriate equipment for your children :
baby seat, bike trailer or trailer bike depending on their age and size
.
Electric bikes are also available for adults (+1m55).
You can of course also bring your own bikes, in this case a reduction will be applied (see the Tariff tab)
Luggage
For this trip, bikes are equipped with
2 waterproof saddle bags
with a capacity of 10 to 20L each to transport your luggage. Do not forget to put your items in a soft travel bag to be able that you can roll it up in your saddle bags.
For more comfort, you can choose to
add luggage transport in your booking
:
(see rate in "Prices")
We transport your luggage from one accommodation to the next using a private vehicle.
Your luggage is directly delivered in your accommodation before you arrive.
We provide a saddlebag for the things you shall need during the day.(included in your bike rental)

Our word of advice :
as we know from experience, we strongly recommend you to avoid wearing a backpack during your cycling trip.
Travel documents
A cycling holiday is the best way to explore a region and discover its culture, landscapes and local traditions.
Your tour is self-guided to give you the freedom to ride at your own pace. You will be provided all the information you need to enjoy the itinerary and its points of interests.
Our documentation contains a very detailed description of the itinerary. No matter how you usually navigate, you will find your way thanks to our comprehensive guidance material including:
a roadbook with maps that we drew at the easiest scale to follow on a bike

a roadbook with step-by-step description giving the direction to follow at each intersection and highlighting the points of interest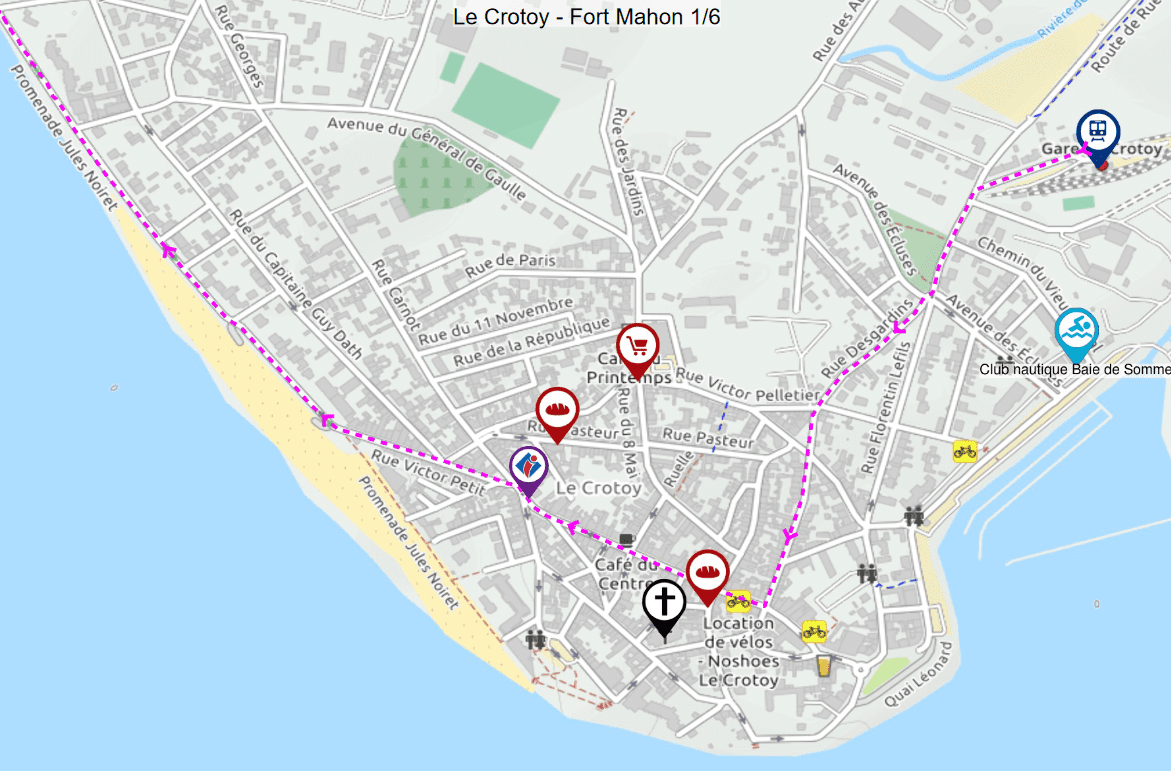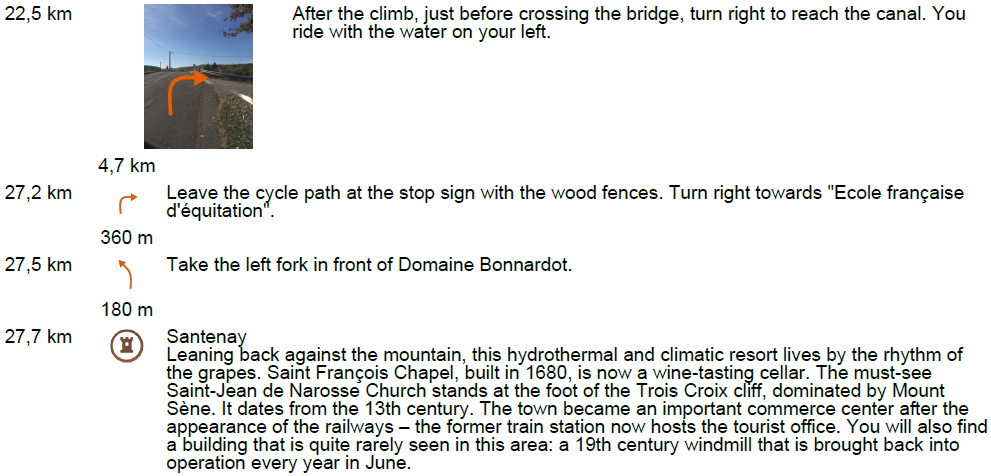 Example of a map and of a step-by-step description


Our GPS App
For this trip, you can also use our smartphone app featuring GPS guidance (without extra fee).

You will find in the app all the information given in the map and step-by-step roadbooks. You will be located on the itinerary with the GPS device of your phone. The route and directions to follow will be both viewable on the screen of your phone and announced aloud. As you ride along the itinerary, you will be given information about visits, restaurants, services and useful alerts on the way.

-> You need to have a smartphone and download Le Velo Voyageur app on your Apple or Android store before the trip. All details concerning the downloading and the use of the application will be given after we have confirmed the booking and the balance is paid. Once the trip is downloaded, the GPS guidance can be used off-line.

10 bike travelers reviews





4.80 / 5
" Nice trip! "





On the 2022-10-02 by Jan Helge
In genearl good service and organizing. Nice routes with little traffic. Charming hotels with friendly staff. Good bikes and a very useful app.
" Lovely bike trip in Provence "





On the 2022-07-16 by Eirin
We booked a trip in July, and the biking was lovely. Quite flat, and a beautiful landscape. The bikes were of good quality, and the app with directions was easy to use. Nice hotels in category A, and very good service from Velo Voyageur.
" mike "





On the 2022-07-07 by mike
Great trip, well organised with good app, bikes and support when required. Would highly recommend
" Super séjour! "





On the 2021-06-18 by Sylvie & Jérôme
Comme les précédents !! Séjour très agréable, L'idée étais de voyager en visitant de magnifique village , des domaines viticoles et d'appréciais les paysages de la Provence !! Séjour réussi !! De plus la météo était au RDV , Merci
" un très bon moment !!! "





On the 2020-08-28 by patrick
Nous avons vraiment apprécié ce parcours en Provence avec le vélo voyageur, l'itinéraire est bien détaillé et évite au maximum les routes avec du trafic, on se sent en sécurité. Les villages visités et l'itinéraire correspondent parfaitement à la thématique annoncée. bref, on s'est régalé.. à refaire !!
" Dans les oliviers et les vignes en provence "





On the 2019-09-10 by Jean-Michel
Quatre jours trés agréable en provence d'Avignon à L'Isle sur Sorgue. Les vélos, l'assistance téléphonique, la doc, ... tout était vraiment bien ...
" We had a wonderful relaxed cycling trip in Provence "





On the 2018-10-14 by Jenni & Jonathan
We were very happy with the trip, we are a couple in our fifties who have never completed a cycling adventure like this previously. Le Velo Voyageur provided highly detailed trip information which included a log of instructions and maps - this was all clear and understandable. Our trip was rated moderate which meant some gentle grades and occasional gravel paths on predominantly quiet smaller bitumen roads that took us through smaller towns. The route choice was perfect as we were after a slow relaxed holiday ride that allowed us to safely travel this region at our own pace. I suspect that the trip enabled us to explore parts of the region we may not have otherwise considered. We opted for the basic level of accommodation which in our opinion was excellent - and provided clean hotels, good breakfasts, comfortable beds and accommodating hosts. The baggage transfer system worked well. The bikes were excellent. Thank you le Velo Voyageur.
" Beau parcours "





On the 2018-10-11 by Paule
Belle région, beau parcours, hébergements parfaits... Requiert quand même d'être débrouillard pour s'y retrouver avec les indications fournies. Solution simple: les coordonnées GPS devraient être fournies.
" Circuit vélo en provence "





On the 2018-09-23 by priscillia
Nous avons effectuer pour la premiere fois des vacances en velo. Et, nous avons adoré. Le parcour nous fait passer dans les vignes et les champs d Olivier. C était très beau. De plus, le circuit est adapté à tous. L organisation et la description du circuit est très bien faite. Je remercie le velo voyageur pour ces superbes vacances et nous repartirons volontier l année prochaine avec cette agence sur un autre circuit. Enfin, je recommande ce circuit très agréable à faire.
" G "





On the 2017-07-10 by Garth
Honestly, our 4 day cycle trip was one of the loveliest holidays I've ever had. You organised it perfectly and every aspect of the trip - from the routes you had suggested through vineyards and the prettiest towns to the places we stayed - all wonderful. You can be sure we will be booking another trip with you, it's just a question of when.