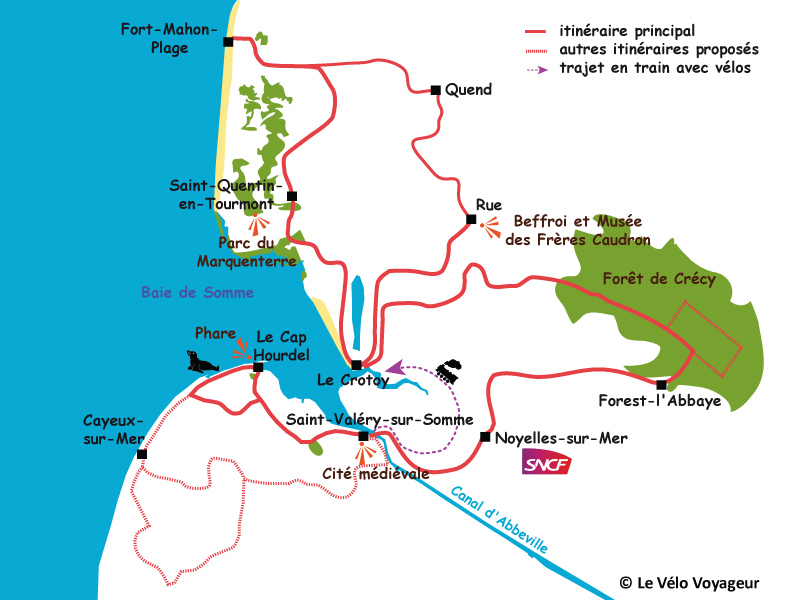 On the coast of the English Channel, the Bay of Somme is a necessary step of migratory birds and a natural area remarkably protected! You will be charmed by the diversity of the landscapes, the rich fauna and flora. You discover the charming seaside towns of Saint-Valery-sur-Somme or Le Crotoy, the long sandy beaches of Quend-Plage and Fort-Mahon, the pine covered dunes, the rural landscape or the forest of Crecy home of strange trees. Take the bike paths and small roads to observe rare birds in the Marquenterre Bird Park. And if you are lucky, you can even see the famous seals of the Somme!
Day 1

Round trip from Saint-Valéry

You can choose among different excursions around Saint-Valéry. You can go for the short option (26km) which takes you to the Cap Hourdel on a comfortable cycle path. After passing the lighthouse of Cap Hourdel, you keep on biking on the "white road", a wonderful cycle path along the sand dunes of the Channel before riding back towards Saint-Valéry. A longer tour (38 or 49km) takes you first in the back country through the small villages till Cayeux-sur-Mer. You cycle further on the "white road" and pass by the Cap Hourdel before going back to Saint-Valéry-sur-Somme on the cycle path along the bay.

Day 2

Saint-Valéry - Le Crotoy

Vintage train

You start your day in a ride in the vintage train of the Somme bay with your bikes from Saint-Valéry-sur-Somme to Le Crotoy.

You ride on the seawall of Le Crotoy and along the ponds of Les Morettes inhabited by numerous birds. Through small lanes in the countryside you reach the park of Marquenterre where we strongly suggest that you make a stop. Then follow the cycling path amongst the pine trees to the eco-villages of Quend-Plage. You ride leisurely through the pine covered dunes before arriving in Fort-Mahon-Plage.

From Saint-Valéry to Le Crotoy on a vintage train

1h

Included

Marquenterre Bird Park

2h

Do not miss the visit of

the birdpark

,

where birds have a rest on their migration

between Scandinavia

and Mauritania.

Listen

to the

comments of the

naturalist guides

who

will

spot

for

you

avocets

,

spoonbills

and other

species. Free binoculars for cyclists.

7,90 € / teen
10,50 € / adult


Day 3

After Fort-Mahon you leave the maritime atmosphere to immerge in the rural hinterland of the Bay of Somme. You meander through fields, make a stop on the church square of Quend and join the small town of Rue. This ancient seaport and fortified town is proud of its medieval belfry, its two churches and the heritage of the Caudron brothers, who were aviation pioneers in the early 20th century. You will find again the seaside atmosphere in Le Crotoy.

Day 4

Through the forest of Crécy

From Le Crotoy, today's tour takes you to the huge and beautiful forest of Crécy. Along the paths, you will admire the oaks and beech trees. If you have enough stamina, you can bike the longer option to observe the "warring brothers", an oak and a beech which grew embracing each other like siamiese twins, each one fighting to protect its space. When leaving the woods, you will also admire the "Chartreux" oak, which is 500 years old. You cycle back to Noyelles-sur-Mer riding behind the hunting huts and keep on till Saint-Valéry on the cycle path around the bay.
Your own bikes

Exeptionnaly on the Somme Bay destination, we are not able to provide rental bikes.
This tour is available only if you bring you own bikes.
Luggage
Our services include luggage transport in order to let you enjoy your trip comfortably and without stress :
We transport your luggage from one accommodation to the next using a private vehicle.
Your luggage is directly delivered in your accommodation before you arrive.
We provide a saddlebag for the things you shall need during the day.
Our word of advice :
as we know from experience, we strongly recommend you to avoid wearing a backpack during your cycling trip.
Travel documents
A cycling holiday is the best way to explore a region and discover its culture, landscapes and local traditions.
Your tour is self-guided to give you the freedom to ride at your own pace. You will be provided all the information you need to enjoy the itinerary and its points of interests.
Our documentation contains a very detailed description of the itinerary. No matter how you usually navigate, you will find your way thanks to our comprehensive guidance material including:
a roadbook with maps that we drew at the easiest scale to follow on a bike

a roadbook with step-by-step description giving the direction to follow at each intersection and highlighting the points of interest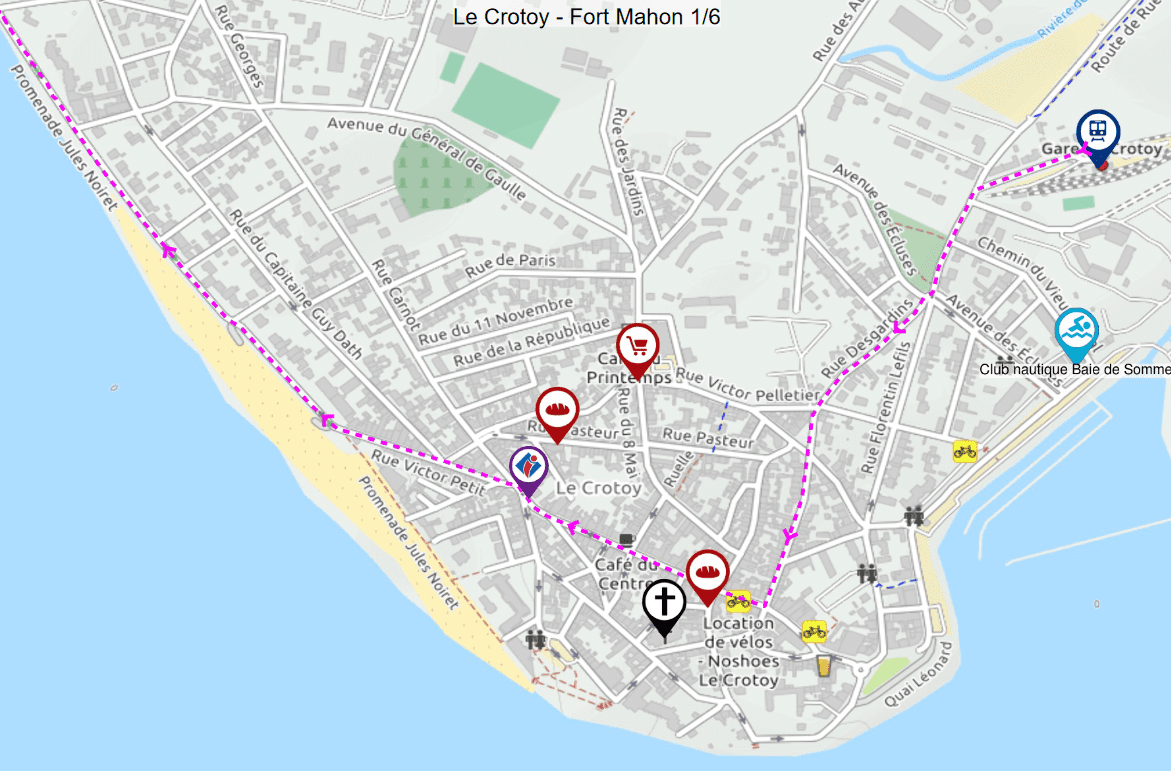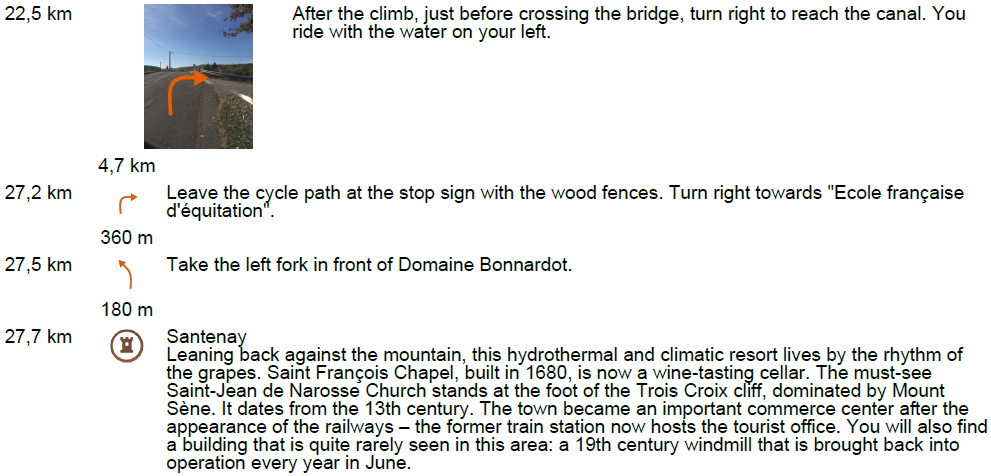 Example of a map and of a step-by-step description


Our GPS App
For this trip, you can also use our smartphone app featuring GPS guidance (without extra fee).

You will find in the app all the information given in the map and step-by-step roadbooks. You will be located on the itinerary with the GPS device of your phone. The route and directions to follow will be both viewable on the screen of your phone and announced aloud. As you ride along the itinerary, you will be given information about visits, restaurants, services and useful alerts on the way.

-> You need to have a smartphone and download Le Velo Voyageur app on your Apple or Android store before the trip. All details concerning the downloading and the use of the application will be given after we have confirmed the booking and the balance is paid. Once the trip is downloaded, the GPS guidance can be used off-line.

12 bike travelers reviews





4.75 / 5
" Tres belle expérience "





On the 2021-08-20 by sylvie
Nous avons passé un excellent séjour avec des hôtels de qualité, toujours vue sur mer, de bons repas, un matériel d'excellente qualité . La baie de Somme est un beau voyage et ses habitants savent accueillir. Grace à ce mode de voyage lent nous avons pu nous sentir hors du temps tout en étant coocooné. On en arrive même à oublier le mauvais temps !
" Baie de Somme "





On the 2021-07-24 by MYRO
Super balade, facile. Des paysages magnifiques et un dépaysement total !
" MidWeek en baie de Somme "





On the 2021-06-22 by patrick
Une randonnée sur quelques jours, permet de visiter les principaux point d'intérêt de la baie. Le tout sur des parcours agréables et sécurisés alternant pistes cyclables, vélo route, quelques routes à très faible fréquentation. A noter une application smartphone simple d'emploi, très pratique pour la navigation et les points d'intérêt et surtout efficace pour la navigation. Tout ce qu'il faut pour un séjour agréable.
" Séjour baie de somme "





On the 2020-08-29 by Isabelle
Parcours très varié, une belle région à découvrir.
" Belle découverte de la baie de Somme "





On the 2020-08-15 by Vélo80
Parcours équilibré, sans difficulté. Les lieux d'hébergement sont de qualité et bien localisés. L'agence de location de vélos est très professionnelle avec une très bonne qualité d'accueil. Une agréable première expérience de vélo nomade.
" Dan "





On the 2018-10-31 by Dan
Nous avons effectué 4 jours de vélo en Baie de Somme, nous avons bien apprécié la qualité de l'organisation, itinéraire de vélo est très bien pensé, le paysage est grandiose surtout le coucher du soleil en baie de Somme, un spectacle magnifique. Nous avons aussi essayé le Char à Voile(n'est pas planifié par Vélo Voyageur), c'était une expérience inoubliable.
" "bonne pioche" "





On the 2018-06-12 by Gérard
Bravo pour l'idée d'organiser des circuits à vélo, notamment avec le transport des bagages. Bravo aussi pour l'avoir bien fait.
" Séjour magnifique en Baie de Somme "





On the 2017-09-06 by Frédérique
L'organisation est soignée comme d'habitude. Les vélos tous neufs. Nous avons pu demander le changement d'une selle. Le loueur était tout disponible pour nous satisfaire. Le circuit est très intéressant. Le parcours varié. Très bon moyen d'appréhender la région, même en 4 jours. Nous étions très satisfaits.
" Très bien. "





On the 2017-08-07 by Michèle
Très belle balade entre mer, oiseaux et forêt.
" Super vacances en Baie de Somme "





On the 2017-06-11 by Michel
Super séjour de vacances actives et reposantes autour de la baie de Somme, en toute liberté, sécurité, sérénité en sachant qu'une bonne organisation prend en charge tous les soucis organisationnels ... Nous avons eu le temps de découvrir à notre rythme une super région, un peu (trop ...) venteuse ... par moment ...
" Baie de Somme, que du bonheur "





On the 2016-06-12 by Guy and Co
Nous étions quinze à partager cette très belle semaine cycliste en Baie de Somme. Pour notre plus grand plaisir, un soleil radieux s'était invité ce qui ne fut pas pour nous déplaire. A chaque fin d'étape, un diner gastronomique nous attendait afin de combler notre appétit, venait ensuite un sommeil réparateur dans des hôtels extra.
" Belle surprise la baie de Somme ! "





On the 2015-08-30 by Martine and co
Très belle région avec une atmosphère particulière qui a inspiré de nombreux peintres.Circuit très bien ciblé pour les vélos avec des pistes cyclables, petites routes ou chemins tranquilles. Le parc du Marquanterre et la forêt de Crécy valent le détour. Un bémol sur l'équipement des vélos qui ne correspond pas à la demande.