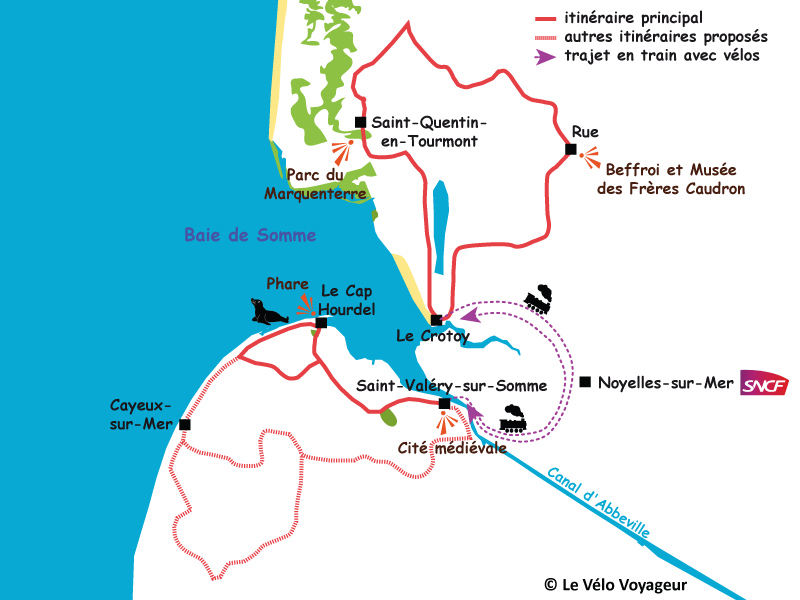 Cycling the Somme Bay is the ideal activity for a short break in the countryside. Discover by bicycle this naturally protected bay located on the coast of the English Channel where birds stop on their migratory course. Be enchanted by the diversity of landscapes, the sound of waves against the hull of the boats in the harbor of Saint-Valéry-sur-Somme and Le Crotoy and the song of the many birds that inhabit the bay. Admire them closely in the bird park Marquenterre in the company of ornithologists, who will tell you all about them. And do not forget your binoculars to observe the seal's colony which rests on the sandbanks off Cap Hourdel.
Day 1

Round trip from Saint-Valéry

You can choose among different excursions around Saint-Valéry. You can go for the short option (26km) which takes you to the Cap Hourdel on a comfortable cycle path. After passing the lighthouse of Cap Hourdel, you keep on biking on the "white road", a wonderful cycle path along the sand dunes of the Channel before riding back towards Saint-Valéry. A longer tour (38 or 49km) takes you first in the back country through the small villages till Cayeux-sur-Mer. You cycle further on the "white road" and pass by the Cap Hourdel before going back to Saint-Valéry-sur-Somme on the cycle path along the bay.

Saint-Valéry - Le Crotoy

vintage train

At the end of your bike ride, you go on board of a vintage train (steam or diesel) with your bikes from Saint-Valéry-sur-Somme to Le Crotoy.

From Saint-Valéry to Le Crotoy on a vintage train

1h

Included

Day 2

Round trip to the Marquenterre

You ride on the seawall of Le Crotoy and along the ponds of Les Morettes inhabited by numerous birds. Through small lanes in the countryside you reach the park of Marquenterre where we strongly suggest you to make a stop. Then follow the cycling path amongst the pine trees to the city of Rue. This former seaport and fortified town is proud of its medieval battle tower, its two churches and the inheritance of the Caudron brothers, pioneers in the aviation at the beginning of the 20th century. You come back to Le Crotoy through the countryside.

Le Crotoy - Saint-Valéry

vintage train

At the end of your bike ride, you go on board of a vintage train (steam or diesel) with your bikes from Le Crotoy to Saint-Valéry-sur-Somme.

From Le Crotoy to Saint-Valéry on a vintage train

1h

Included

Marquenterre Bird Park

2h

Do not miss the visit of

the birdpark

,

where birds have a rest on their migration

between Scandinavia

and Mauritania.

Listen

to the

comments of the

naturalist guides

who

will

spot

for

you

avocets

,

spoonbills

and other

species. Binoculars included for cyclists.

8,60 € / teen
11,50 € / adult

Bikes
On your arrival day, we provide you with:
a touring bike adjusted to your size or a tandem
equipped : front rack pack with an integrated file compartment, saddlebag, helmet (on demand), reflective vest, repairing toolkit with patches etc.
We also provide you with the appropriate equipment for your children :
baby seat, bike trailer or trailer bike depending on their age and size
.
Electric bikes are also available for adults (+1m55).
You can of course also bring your own bikes, in this case a reduction will be applied (see the Tarif tab)
Luggage
For this trip, bikes are equipped with
2 waterproof saddle bags
with a capacity of 10 to 20L each to transport your luggage. Do not forget to put your items in a soft travel bag to be able that you can roll it up in your saddle bags.
Our word of advice :
as we know from experience, we strongly recommend you to avoid wearing a backpack during your cycling trip.
Travel documents
A cycling holiday is the best way to explore a region and discover its culture, landscapes and local traditions.
Your tour is self-guided to give you the freedom to ride at your own pace. You will be provided all the information you need to enjoy the itinerary and its points of interests.
Our documentation contains a very detailed description of the itinerary. No matter how you usually navigate, you will find your way thanks to our comprehensive guidance material including:
a roadbook with maps that we drew at the easiest scale to follow on a bike

a roadbook with step-by-step description giving the direction to follow at each intersection and highlighting the points of interest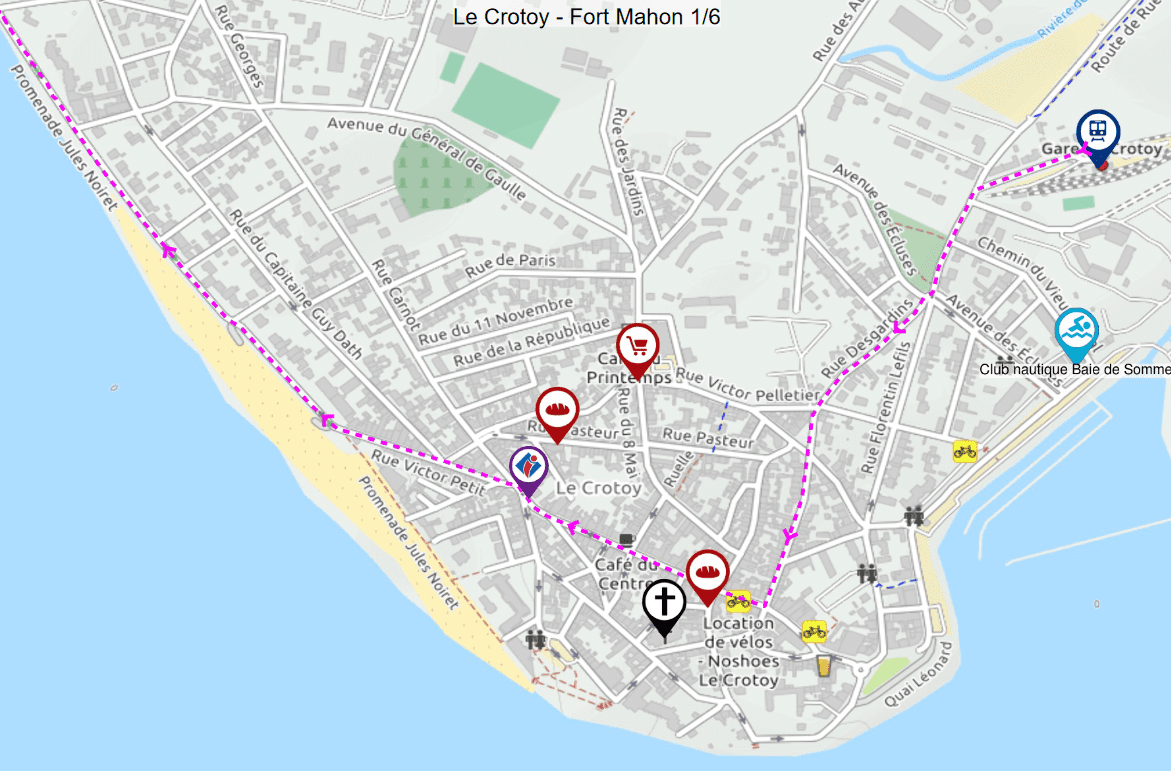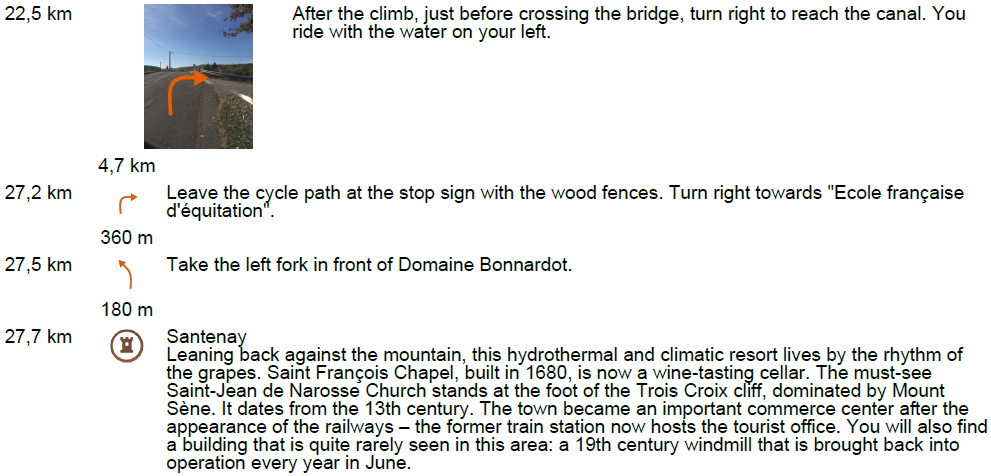 Example of a map and of a step-by-step description


Our GPS App
For this trip, you can also use our smartphone app featuring GPS guidance (without extra fee).

You will find in the app all the information given in the map and step-by-step roadbooks. You will be located on the itinerary with the GPS device of your phone. The route and directions to follow will be both viewable on the screen of your phone and announced aloud. As you ride along the itinerary, you will be given information about visits, restaurants, services and useful alerts on the way.

-> You need to have a smartphone and download Le Velo Voyageur app on your Apple or Android store before the trip. All details concerning the downloading and the use of the application will be given after we have confirmed the booking and the balance is paid. Once the trip is downloaded, the GPS guidance can be used off-line.

12 bike travelers reviews





4.75 / 5
" Evasion en baie de Somme "





On the 2021-10-27 by ANNE
L'organisation est parfaite, les itinéraires empruntent une majorité de pistes cyclables ou, à défaut des routes paisibles avec peu de circulation. Il y a parfois des variantes possibles sur l'itinéraire, de nombreuses suggestions de visites et des informations pratiques qui permettent un séjour à la carte, au gré des envies. J'ai apprécié de pouvoir garer mon vélo en lieu sûr chaque soir. Une vraie parenthèse nature qui m'a offert de vraies vacances le temps d'un week end: un séjour très agréable.
" Bien pensé et pro ! "





On the 2020-10-18 by Geneviève & François
Merci pour ce séjour organisé au dernier moment. Des interlocuteurs pros, disponibles et efficaces pour un séjour où il ne reste plus qu'à pédalier pour le plaisir, sur des chemins biens choisis. Bravo !
" Très belle escapade en vélo "





On the 2020-06-22 by Florence
Nous avons beaucoup apprécié notre escapade en vélo en baie de Somme. Plusieurs itinéraires sont proposés pour adapter aux envies et capactités de chacun. Nous avons trouvé le parcours très accessible, même aux moins expérimentés. L'équipe Vélo Voyageur est à l'écoute et réactive, l'organisation était vraiment au top.
" top ! "





On the 2018-08-26 by Julie
très belle expérience ! Beaucoup de paysages différents
" à faire "





On the 2017-07-31 by Clémence
Jean-Marie est très agréable et accueillant, il n'hésite pas à conseiller si nécessaire. Le parcours est très beau, principalement la baie et les lacs. Abordable pour tous, mais on en ressort avec quelques courbatures !
" Weekend en baie de Somme "





On the 2016-10-10 by sandrine
Nous avons passé un weekend vélo en baie de Somme. Et nous avons adoré ! L'organisation était parfaite : le livret d'information nous a été expédié très rapidement et il comporte absolument toutes les informations dont nous avions besoin. A l'arrivée à Noyelle sur mer, nous avons récupéré des vélos d'une très grande qualité (y compris la selle ce qui compte beaucoup !). La personne qui nous a apporté les vélos est accueillante et serviable. Rien à dire sur le transport des bagages : ponctuel au départ et à l'arrivée. L'hôtel était très propre, calme et idéalement situé.... avec un grand buffet pour le petit-déjeuner pour commencer une journée vélo. Les différentes options proposées nous ont permis d'adapter nos trajets à la météo et à nos envies. Cette formule permet de ne pas se soucier de l'organisation tout en gardant une grande liberté dans la manière de vivre son séjour. C'était une première expérience qui en appelle d'autres ...
" Baie de somme "





On the 2016-09-07 by Pascal
Bravo au vélo voyageur ! Organisation parfaite !
" WE familial en Baie de Somme "





On the 2016-03-29 by Isabelle
Ce week-end en famille a permis à mon mari et moi-même de transmettre notre goût de découvrir une région en vélo. Le temps très venteux n'a pas découragé nos enfants et beaux-enfants (âgés de 21 à 29 ans -). Au contraire, ils étaient très enthousiastes et prêts à repartir pour une autre découverte.
" Super par beau temps "





On the 2015-09-06 by Pierre
Un beau circuit sur 2 jours. la baie est incroyable pour celui qui aime la nature. Presque 100% de pistes cyclables aménagées, c'est vraiment bien et sécure. Le guide et le road book très utiles.
" un grand bol d'air en Picardie ! "





On the 2015-05-12 by Marie-Liesse
Un magnifique parcours entre campagne et mer. Grand bol d'air garanti tout autour de la Baie dans une nature préservée. Belles prestations d'ensemble y compris l'hébergement dans le joli site du Crotoy. Ballade qui donne envie de refaire du vélo ! merci
" Baie de Somme "





On the 2014-06-01 by sabine
Nous avons passé 2 jours extra en famille en Baie de Somme!! Parcours très adapté aux familles. Tous les prestataires nous attendaient et nous ont reçu avec gentillesse. Les informations sur le roadbook étaient très claires et agréable à lire. Avec nos enfants de 4 ans 1/2 et 7 ans nous avons pris un vélo suiveur très stable et agréable pour notre fille et un vélo pour notre fils. Le deuxième jour, nous avons préféré faire la "petite" boucle pour que ça reste un plaisir. Dans quelques années, on fera la grande boucle! Après 60 kms dans les jambes, de belles images en tête et un très bon moment passé en famille nous sommes rentrés ravis chez nous.
" Baie de Somme "





On the 2013-08-16 by MARIE
Vraiment très bien, séjour agréable, picards sympas. Profitez vous aussi de cette escapade française où l'on se croit dans une autre france!