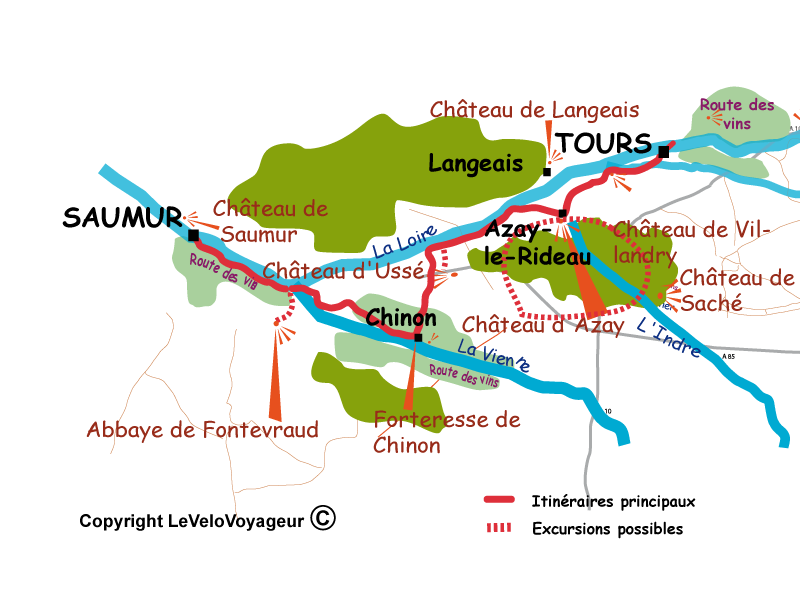 Discover the breathtaking beauties of the Loire valley by riding on the "Loire à vélo" bike route between Tours and Saumur. Meandering between the Loire valley and the Vienne valley, the bike route follows little country roads passing by the most prestigious castles, the chateaux de la Loire such as the chateau de Villandry, the chateau d´Azay-le-Rideau or the chateau d´Ussé, the castle of the Sleeping Beauty. You will not only admire the changing colors of the Loire River, the traditional boats swinging between the sand banks, but also the vineyards of Chinon and Saumur. You will also see many cave houses all along the way. Give in to the magic of a cycling holiday in the Loire.
Day 1

You wind on the cycling path along the Loire to leave Tours and reach the château de Villandry with its beautiful French gardens. Enjoy the banks of the Loire Valley before riding up through forests towards the château d'Azay-le-Rideau.

Day 2

Keep on cycling on « Loire à vélo » and ride on the dike to get to the château d'Ussé which inspired the Sleeping Beauty fairy tale. You enter into Chinon overlooking the old town. Enjoy the labyrinth of medieval narrow streets when you ride down the Vienne River.

Day 3

Chinon - Saumur

2 route options

You continue to ride along the Vienne River and enjoy the view on the wild Loire banks. You arrive in the gorgeous small village of Candes-Saint-Martin built with freestone. You can stop to admire the XIIth century foundation church. Keep on to Montsoreau which is one of the "Loveliest Villages in France" built around its castle. From there, you have the option to keep on the hills to Fontevraud which is worth visiting for its magnificent abbey which shelters the tombs of Richard the Lionheart and Eleanor of Aquitaine. Otherwise ride straight to Saumur. On your yay you admire the cave house villages and stop to taste Saumur wines in the numerous wine cellars. Discover Saumur and its castle with impressive dungeons at the end of this idyllic ride.
Bikes
On your arrival day, we provide you with:
a touring bike adjusted to your size or a tandem
equipped : front rack pack with an integrated file compartment, saddlebag, helmet (on demand), reflective vest, repairing toolkit with patches etc.
We also provide you with the appropriate equipment for your children :
baby seat, bike trailer or trailer bike depending on their age and size
.
Electric bikes are also available for adults (+1m55).
You can of course also bring your own bikes, in this case a reduction will be applied (see the Tarif tab)
Luggage
Our services include luggage transport in order to let you enjoy your trip comfortably and without stress :
We transport your luggage from one accommodation to the next using a private vehicle.
Your luggage is directly delivered in your accommodation before you arrive.
We provide a saddlebag for the things you shall need during the day.
Our word of advice :
as we know from experience, we strongly recommend you to avoid wearing a backpack during your cycling trip.
Travel documents
A cycling holiday is the best way to explore a region and discover its culture, landscapes and local traditions.
Your tour is self-guided to give you the freedom to ride at your own pace. You will be provided all the information you need to enjoy the itinerary and its points of interests.
Our documentation contains a very detailed description of the itinerary. No matter how you usually navigate, you will find your way thanks to our comprehensive guidance material including:
a roadbook with maps that we drew at the easiest scale to follow on a bike

a roadbook with step-by-step description giving the direction to follow at each intersection and highlighting the points of interest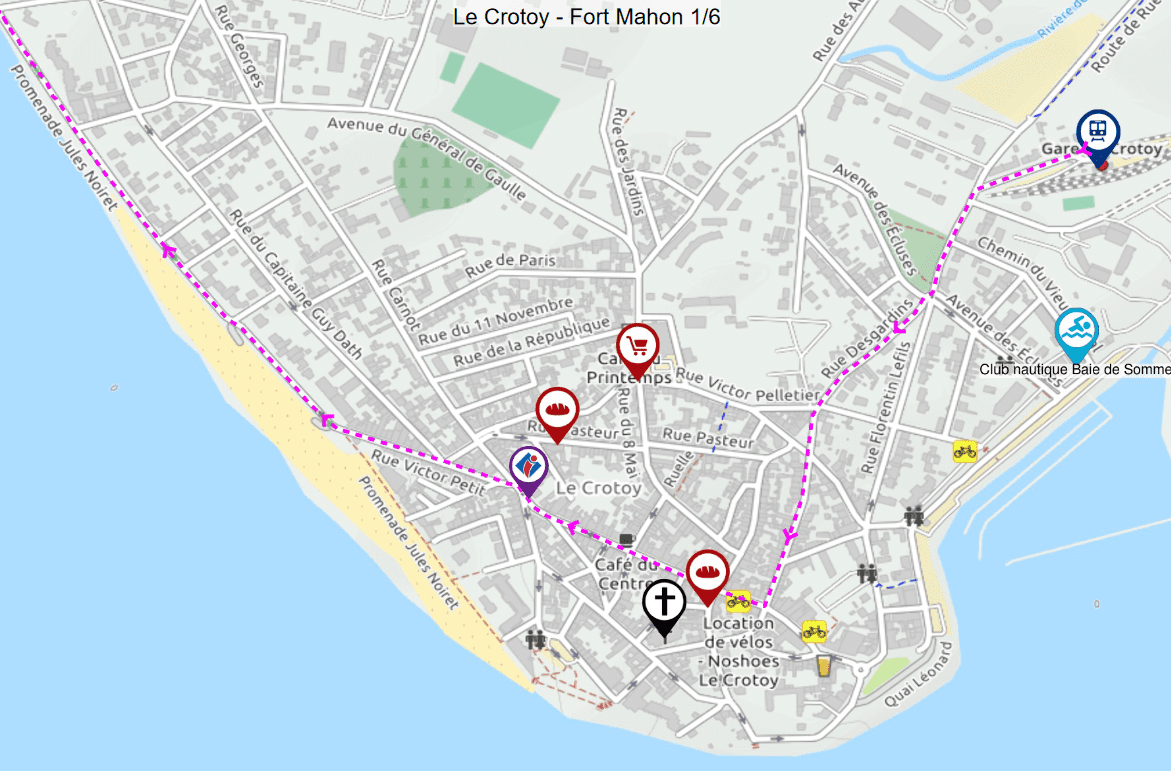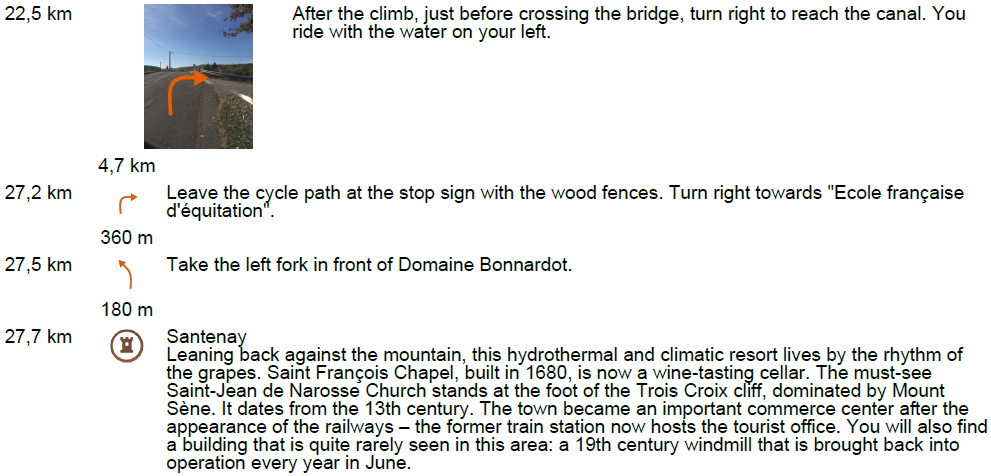 Example of a map and of a step-by-step description


For this short trip your travel documents will be sent electronically.
Our GPS App
For this trip, you can also use our smartphone app featuring GPS guidance (without extra fee).

You will find in the app all the information given in the map and step-by-step roadbooks. You will be located on the itinerary with the GPS device of your phone. The route and directions to follow will be both viewable on the screen of your phone and announced aloud. As you ride along the itinerary, you will be given information about visits, restaurants, services and useful alerts on the way.

-> You need to have a smartphone and download Le Velo Voyageur app on your Apple or Android store before the trip. All details concerning the downloading and the use of the application will be given after we have confirmed the booking and the balance is paid. Once the trip is downloaded, the GPS guidance can be used off-line.

12 bike travelers reviews





4.50 / 5
" Séjour sportif et culturel ! "





On the 2022-10-24 by Emily
Notre expérience avec le vélo voyageur a été une vraie découverte. Tout s'est déroulé facilement et sans stress, les étapes en vélo sont compatibles avec des visites sur le parcours, nos hôtels étaient très agréables, bref, un vrai bonheur! On regrette que ce soit déjà fini!
" Trois jours formidables "





On the 2021-08-13 by stephane
Une super souvenir de vacance. Un parcours facile (malgré quelques petites côtes en quittant les bords de vienne ou Loire) dans une région très agréable. Des hôtels hauts de gamme à chaque étape.Pour une première expérience avec nos loulous de 8 et 12 ans ce fut une réussite totale. A conseiller même pour une famille ayant peu l'expérience du vélo.
" Première réussie "





On the 2020-08-17 by Claire
Nous sommes ravies de notre première expérience avec Le Vélo Voyageur. Le niveau de difficulté - "assez facile" - correspond à la réalité, nous sommes en forme mais pas des sportives de haut niveau! Les hôtels partenaires jouent le jeu et sont sympathiques. Les paysages parcourus lors des trois jours sont variés (mention spéciale pour la troisième journée entre Chinon et Saumur), champs de maïs ou de blé moissonné, coteaux, villages troglodytes, bords de Loire, Cher, Vienne. L'itinéraire permet de combiner nature et culture. Les châteaux visités se trouvent dans des cadres différents les uns des autres. Coup de coeur personnel pour Chinon, une ville dont je n'attendais rien de spécial mais que j'ai trouvée très belle et élégante- cerise sur le gâteau, nous avons eu droit à un feu d'artifices sur la forteresse la soirée de notre passage!
" Loire à vélo "





On the 2020-07-27 by Eleonore
Un beau parcours entre Tours et Saumur, alliant le côté sportif (quelques belles montées), culturel (châteaux, Cadre Noir...) et découverte d'une région magnifique. Tout était bien organisé (portage des bagages, hébergement, restaurants...). Nous sommes partants pour d'autres parcours avec le vélo voyageur!
" La Loire à vélo "





On the 2020-07-26 by Xavier
Une très belle ballade avec une bonne prise en charge par les différents prestataires. Le bémol, aucune plus-value du vélo voyageur en amont de ce périple pour répondre à mes demandes et modifications de devis, dommage car le prix n'est quand même pas neutre.
" Tours to Saumur, 3 days "





On the 2019-09-29 by Peejay
We enjoyed the route. The notes supplied were comprehensive although there were a couple of wrong directions on the last day. The bikes were very good, the bike hire collection and drop off was very easy to find and the accomodation was mostly good. Luggage transfer was excellent. Will consider using Le Vélo again in the future.
" Excellent and fun road trip in Loire Valley "





On the 2019-07-02 by Jennifer
We had a great time on this trip. The choice of hotels were fantastic, the routes were nice, the descriptions and tidbits of information about things to do, and the history of the area, were excellent. Because a significant portion of the trip was on roads that were not in good condition, a bicycle with better suspension would have been helpful. Therefor four stars not five. But everything else was amazing. The bike itself was very good and all the equipment, etc, was great. The Velo Voyageur people were extremely responsive, helpful and nice. Excellent overall -- a strong recommend!
" Super séjour! "





On the 2019-04-23 by marjolh
Merci à toute l'équipe de Velo voyageur et à ses partenaires. Super séjour de 3 jours (Tours à Saumur). Intense, physique mais quel bonheur de se retrouver en pleine nature et de voir autant de beaux paysages. L'organisation était top! Bel exercice pour celles et ceux qui n'ont pas le sens de l'orientation! Les parcours sont top, certains détours qui auraient pu être optionnels mais on en prend plein la vue! Le fait que tout soit clé en main permet de ne pas stresser au niveau des horaires. On prend le temps, on se pose, on s'arrête et c'est top! Belle expérience qui nous donne envie de recommencer dans d'autres coins de la France.
" Enchantés "





On the 2017-05-28 by Gabriel
Une organisation sans défaut, un parcours superbe , des vélos au top, une région magnifique et des hébergements à la hauteur de nos attentes bref un séjour enchanteur.
" un superbe itinéraire "





On the 2017-05-10 by Caroline
L'itinéraire est vraiment sympathique, même avec un temps mitigé nous avons vraiment profité des paysages et des sites culturels à visiter. Le chateau de Villandry est exceptionnel tout comme la route reliant Chinon à Saumur, avec ses maisons troglodytes. Les hôtels étaient très agréables et bien situés et les vélos parfaits pour porter nos affaires et vadrouiller sur tous types de chemins. Je regrette seulement que nous ayons eu des erreurs sur le roadbook qui ne semblait pas correspondre en tout point à notre séjour. Par ailleurs, une visite de cave était prévue mais n'apparaissait pas dans le roadbook ni les infos pratiques, nous avons donc dû organiser cela par nous même, sachant que ce week-end férié beaucoup de domaines et de caves étaient fermés. Je recommande cet itinéraire en couple ou en famille, pour un premier voyage en vélo, une belle expérience !
" Super "





On the 2016-09-09 by JEAN-LUC
Super balade mais trop courte (3 jours) Très bon accueil dans les hôtels qui jouent le partenariat. ça donne envie de renouveler la formule.
" Une merveille! "





On the 2016-08-19 by Juliette
Une fois toutes les cartes et la documentation en main, une merveilleuse aventure commence. La route à suivre est extrêmement bien indiquée, avec des couleurs. La multitude des paysages traversés est étonnante. Les visites proposées sont très intéressantes avec un coup de coeur pour le Château et les jardins de Villandry. Un petit bémol pour l'Abbaye de Fontevraud qui est certes connue de nom et très belle à voir, mais la visite est moins intéressante. Les hôtels recoivent très bien. N'hésitez pas, c'est fabuleux!