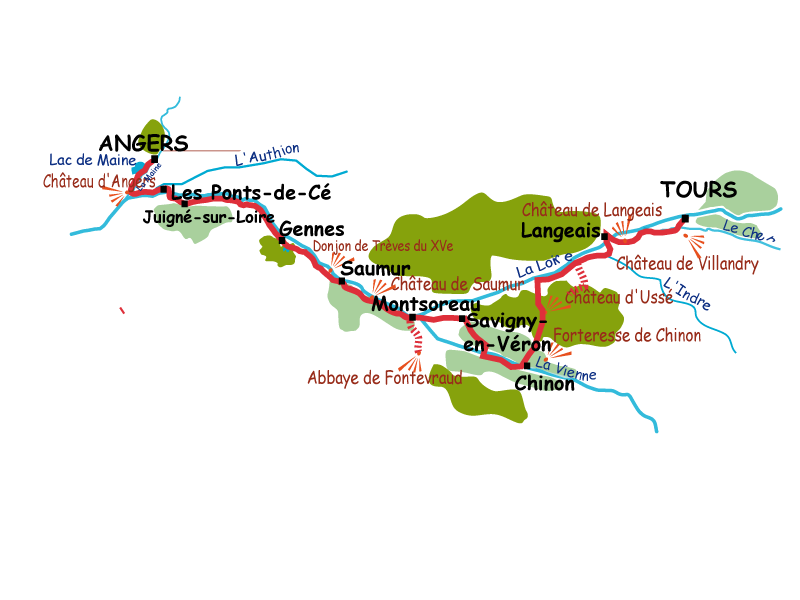 Discover the beauty of the Loire Valley by biking from Tours to Angers. The itinerary follows the Loire river to meet the Loire castles as prestigious as Villandry, Langeais, Ussé (castle of Sleeping Beauty) or the fortress of Angers with its best preserved medieval tapestry. You will discover the changing colors of the Loire Valley, the traditional boat (toues) swaying between sandbanks, but also the vineyards of Saumur or the Abbey of Fontevraud. On this cycling holiday you will also the tipical cave houses. Let yourself be carried away by the magic of the Loire by bike and enjoy the timeless moment.
Day 1

Discover the charm of the lively old Tours with its timbered houses, Saint-Gatien cathedral, Wilson Bridge and Plumereau square. You leave Tours by wandering along the Loire and join the chateau de Villandry. The gardens are worth the visit. Continue riding along the Loire before arriving at one of the few medieval castles of the Loire Valley, Château de Langeais. You cross a medieval bridge under which sway typical boats and barges.

Day 2

Continue to follow the Loire by bike and take the dam to reach the castle of Ussé, which inspired Perrault's tale of the Sleeping Beauty. Shortly after, you leave the Loire to cycle through charming country roads. You enter into Chinon overlooking the old town. Enjoy the labyrinth of medieval narrow streets when you ride down the Vienne River, along which you ride to the village of Savigny-en-Véron.
You ride to Candes-Saint-Martin, a wonderful village in white freestone with its 12th century collegiate church. Continue your way to Turquant, very close to Montsoreau, one of the most beautiful villages in France built around the castle. You can make a short detour to admire the royal abbey of Fontevraud.

Day 3

Start you day by choosing to ride along the Loire or through the hills. Both paths lead to the village of Souzay-Champigny where you ride among beautiful cave houses. Stop by to taste the wines of Saumur. At the end of this charming route, you discover the city of Saumur and its castle with impressive dungeons. You ride leisurely out of Saumur and cross peaceful villages with a rich heritage amongst other beautiful medieval churches. Before reaching Gennes, ride through a forest and along a pond, which offers one of the most beautiful areas of the Loire to picnic and relax.

Day 4

You continue to enjoy the charms of the Loire valley. You ride along the small villages of the Loire and enjoy the many small cafés to relax in the shade of the willows. Then you cross the Loire and the Loiret in Ponts-de-Cé and ride down the Loire to the confluence of the Maine. Finally, Angers appears with its castle, its fortress and its lively streets.
Bikes
On your arrival day, we provide you with:
a touring bike adjusted to your size or a tandem
equipped : front rack pack with an integrated file compartment, saddlebag, helmet (on demand), reflective vest, repairing toolkit with patches etc.
We also provide you with the appropriate equipment for your children :
baby seat, bike trailer or trailer bike depending on their age and size
.
Electric bikes are also available for adults (+1m55).
You can of course also bring your own bikes, in this case a reduction will be applied (see the Tarif tab)
Luggage
For this trip, bikes are equipped with
2 waterproof saddle bags
with a capacity of 10 to 20L each to transport your luggage. Do not forget to put your items in a soft travel bag to be able that you can roll it up in your saddle bags.
For more comfort, you can choose to
add luggage transport in your booking
:
(see rate in "Prices")
We transport your luggage from one accommodation to the next using a private vehicle.
Your luggage is directly delivered in your accommodation before you arrive.
We provide a saddlebag for the things you shall need during the day.(included in your bike rental)

Our word of advice :
as we know from experience, we strongly recommend you to avoid wearing a backpack during your cycling trip.
Travel documents
A cycling holiday is the best way to explore a region and discover its culture, landscapes and local traditions.
Your tour is self-guided to give you the freedom to ride at your own pace. You will be provided all the information you need to enjoy the itinerary and its points of interests.
Our documentation contains a very detailed description of the itinerary. No matter how you usually navigate, you will find your way thanks to our comprehensive guidance material including:
a roadbook with maps that we drew at the easiest scale to follow on a bike

a roadbook with step-by-step description giving the direction to follow at each intersection and highlighting the points of interest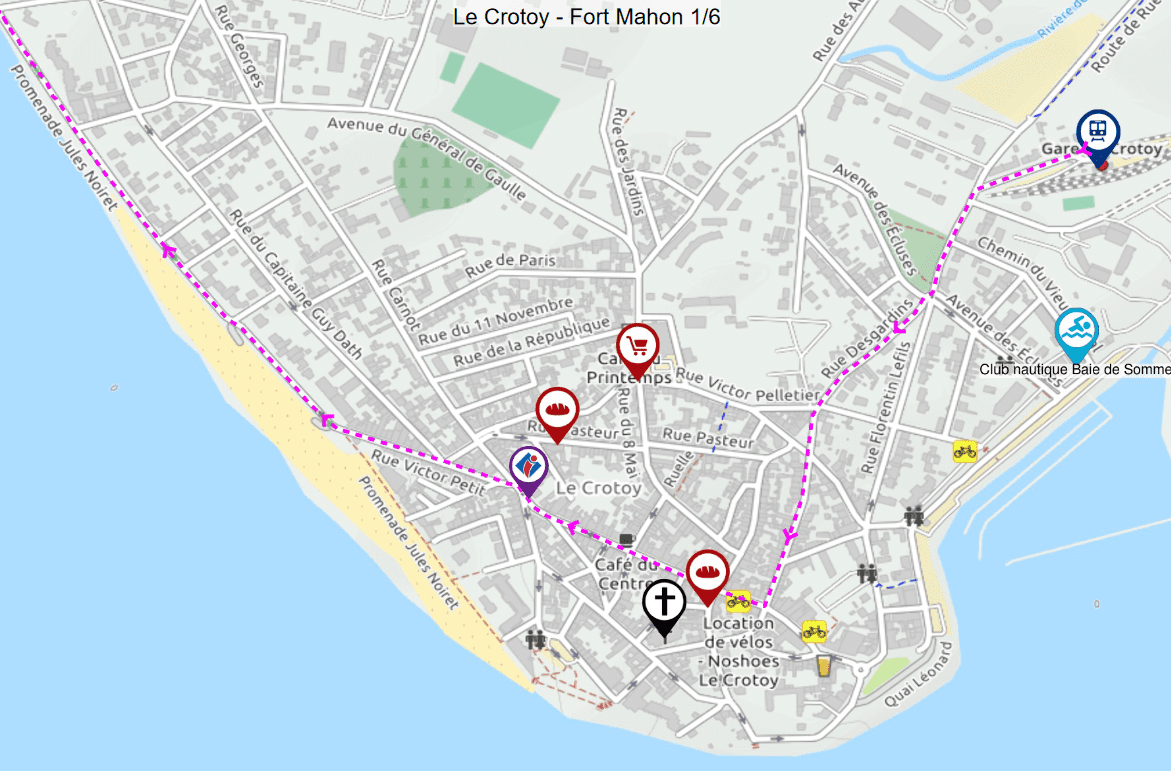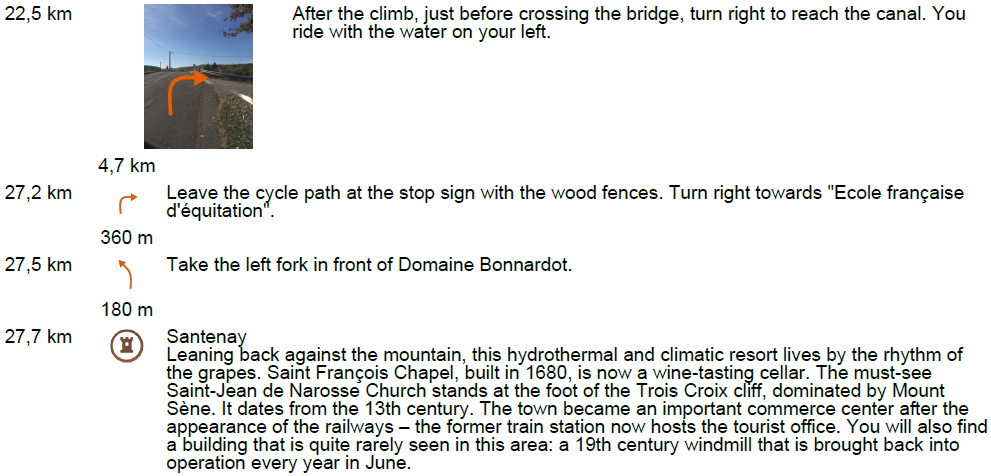 Example of a map and of a step-by-step description


Our GPS App
For this trip, you can also use our smartphone app featuring GPS guidance (without extra fee).

You will find in the app all the information given in the map and step-by-step roadbooks. You will be located on the itinerary with the GPS device of your phone. The route and directions to follow will be both viewable on the screen of your phone and announced aloud. As you ride along the itinerary, you will be given information about visits, restaurants, services and useful alerts on the way.

-> You need to have a smartphone and download Le Velo Voyageur app on your Apple or Android store before the trip. All details concerning the downloading and the use of the application will be given after we have confirmed the booking and the balance is paid. Once the trip is downloaded, the GPS guidance can be used off-line.

20 bike travelers reviews





4.50 / 5
" 4 jours bien sympa "





On the 2022-08-29 by Francis
Itinéraire agréable le long du fleuve, de ses affluents et de la campagne des bords de Loire. Paysages variés : fleuve, champs et petites forêts. Le parcours est plat sauf si on monte dans les vignes et permets de découvrir des châteaux, des villages troglodytes et les vignobles. Les étapes sont équilibrées, les hébergements très corrects et l'assistance fait de son mieux.
" Très bonne expérience "





On the 2021-09-01 by Allégria
Une belle découverte d'une partie de La Loire à Vélo! Un parcours relativement facile qui permet de faire des visites et de se poser sur la journée. Des documents très complets fournis par le Vélo voyageur, qui nous ont permis de nous orienter facilement pendant le séjour. Des hébergements de qualité et une demi-pension avec des très bon repas!! Je recommande vivement et ce séjour est accessible à tout le monde en terme de condition physique!
" véro "





On the 2021-08-15 by veronique
l'organisation du parcours, des hébergements et le suivi des bagages sont très bien étudiés. Mon compagnon et moi même avons déjà fait 2 parcours par le biais de vélo voyageur et nous recommencerons. je recommande
" Tout est bien qui finit bien "





On the 2019-09-09 by Olivier
Malgré les aléas (vol de vélo, réservation oubliée par un gite) ça a été une très belle balade
" Honeymoon to Remeber "





On the 2019-08-20 by Jenna
I'd like to say that my husband and I booked this trip to start our Honeymoon trip to France. We were so impressed by the level of detail taken to accurately map out our trip, advise to points of interest and the bed and breakfasts each night. We quickly realized that this was not a trip we would ever forget or ever be able to put together on our own. We rode on cobblestone roads, through lush forests, near beautiful rivers and medieval architecture. This was a once in a lifetime trip for us and are so thankful we stumbled across le Velo Voyageur! We celebrated when we hit 100 miles! What an amazing time we had!
" Fabulous trip along the Loire "





On the 2019-04-29 by Mark
We had a most wonderful experience. The organisation was slick, the bikes, accommodation and information was superb. The route and options on the trip were excellent. A really memorable experience. Service from the team by phone was excellent. We highly recommend this route and Velo Voyageur.
" .. "





On the 2018-05-04 by Richard
..
" Great Loire cycle trip "





On the 2017-01-15 by Patrick
A great trip. We booked at the last minute and didnt want a standard trip. They were able to provide us with a great trip that more than met our expectations. The organisation was superb. Our bikes were at the first hotel as promised and all the organisation ran perfectly. All the accommodation was very satisfactory, and of an interesting mix. The cycle notes were easy to follow and the bikes were good.. And to make it even better the weather was perfect: fine and not too hot
" Fantastique! "





On the 2016-09-28 by Geneviève
C'est notre 2ième séjour avec le vélo voyageur et nous sommes déjà prêts à repartir ... Tout est merveilleux , plans des routes , choix des chambres d'hôtes , des hôtels, transport des bagages , assistance réelle en cas de besoin , une organisation hors pair ! Merci à toute l'équipe et à tous vos partenaires pour leur accueil et gentillesse !!!
" La Loire à bon rythme "





On the 2016-07-16 by ACAR
Joli voyage, bons vélo et gites idylliques. Le rythme est parfait, comme si on pédalait de conserve avec le fleuve; les hôtes du soir charmants et le pays ravissant malgré quelques entrées et sorties de villes hideuses, comme partout.
" Great fun on the Loire "





On the 2016-07-10 by Patrick and Sue
Overall we were very satisfied with our trip and really enjoyed it. We thought the organisation, the bikes provided and the general information were all excellent. We are happy to recommend le Velo Voyageur
" Excellent holiday - even in the rain "





On the 2016-06-12 by Mark and Jackie
We rode from Tours to Angers and coincided with the worst rain and floods in France for 56 years. Despite this, we had a wonderful holiday. The organisation was excellent, the bikes were strong ( and waterproof!) and our luggage being transported meant we had dry clothes to change into at the end of each day. A lot of paths and small roads along by the Loire were flooded and impassable so we had to find alternative routes. The maps provided helped us to do this and whilst we encountered more hills than expected, we also saw more vineyards and little villages. The accommodation was, without exception, of an excellent standard, the hosts were welcoming and helpful (drying out clothing, lending us a car for the evening, for example) and the breakfasts, and in one case dinner, were extremely good. We would be happy to recommend Le Velo Voyageur to anyone and would certainly like to do another trip with them.
" My wonderful bike voyage through the Loire Valley "





On the 2016-04-19 by Anthony
I had a most wonderful time on my 4 day bike voyage of the Loire Valley. The tour allowed me to amble along the river, through farmland, picturesque villages and via the hills and vineyards of this stunning region of France. It was a visual delight to my eyes. The organisation of the voyage by 'Le Velo Voyageur' team was very efficient which allowed me to relax and enjoy the experience.
" parfait, agréable, à conseiller "





On the 2015-09-13 by ANNICK
nous avons passé un super moment et nous avons rencontré des propriétaires de chambres d'hôtes sympathiques. Le parcours était parfait. Nous recommencerons cette expérence.
" Très bonne randonnée "





On the 2015-09-02 by Pascal
Nous sommes entièrement satisfaits. Le descriptif était très complet et très bien structuré. Les vélos et les sacoches étaient de très bonne qualité. Le parcours était très agréable. Les hébergements étaient très biens et nous avons toujours reçus un très bon accueil.
" Très belle balade de quatre jours deTours à À c "





On the 2015-08-19 by Michèle
Les parcours sont très agréables et diversifiés. Logistique parfaite.
" Redécouvrir le sens du mot "voyage" "





On the 2015-08-16 by Julien
Grâce au Vélo Voyageur, nous avons effectué un véritable périple de paix, de silence et de beauté. Le rythme des vacances nomades devient plus humain : on se salue entre cyclistes, on se respecte entre voyageurs, et on écoute son corps et ses yeux pour décider des pauses. On a le temps de voir le paysage changer et de retrouver l'essence du voyage à la Montesquieu tout en parcourant, l'air de rien, plus de 200 kilomètres en quatre jours!
" Vive le velo "





On the 2015-05-24 by Corinne
Vraiment bien
" super séjour! "





On the 2015-04-22 by ROSIE
une excellente organisation, un équipement de très bonne qualité et un super accueil dans les chambres d'hôtes. Nous avons pris goût au vélo-voyages! Merci à toute l'équipe!
" Circuit Tours - Angers "





On the 2014-09-07 by Wango
Façon sympa de faire première connaissance d'une belle region comme la Loire.