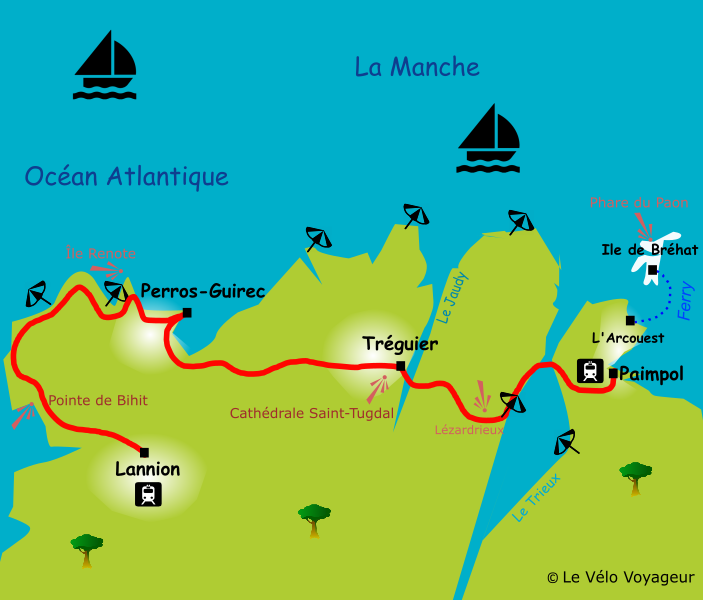 This itinerant trip offers you the possibility to discover the Pink Granite Coast in a few days by passing through charming towns, towns of character. Your stay starts in Lannion, capital of the Trégor, a city with traditional and original architecture. You continue to Perros-Guirec, one of the most famous seaside resorts, where you will have the choice between a walk along a seaside path or a swim at the crossroads of la Manche, the Celtic Sea and the Atlantic. Finally, your itinerary ends in Paimpol, a small coastal town. Your last day offers you the opportunity to discover an extraordinary natural site: the Island of Brehat, the first classified natural site in France.
Day 1

Ride along the coast towards Perros-Guirec, the seaside resort of the Côtes d'Amor. After pedaling for a while, take the high ground at Trébeurden and admire the Pointe de Bihit, from there, you will see all the shades of blue you won't see elsewhere. On the way, don't miss the opportunity to stretch your legs in the white sandy beaches, why not even take a dip in the water if the weather permits.

Day 2

You leave Perros-Guirec and ride along the sea for a few kilometers. Then pedal on small country roads and even enjoy the coolness of the forest at a certain moment.
You arrive in Tréguier, capital of Trégor, from the Passerelle Saint-François. Follow the narrow streets and half-timbered houses which give all the charm to this ancient city.

Day 3

You continue your journey on the Vélomaritime, still criss-crossing the small country roads through the small villages of the Côte d'Armor. You will reach Paimpol and its seaport. You may be tempted by an ice cream on the terrace while admiring the boats, or rather a stroll in the city center.

Day 4

Day on Brehat Island

For this last day, put away your bikes and bring good shoes to go on Brehat Island. Ten minutes of boat will be enough to arrive on this island full of history, where cars are not allowed. 3,5km long, Brehat offers you the possibility to walk and to swim in small creeks, if the tides allow it.

Crossing to and from Brehat Island

0h

Included
Bikes
On your arrival day, we provide you with:
a touring bike adjusted to your size or a tandem
equipped : front rack pack with an integrated file compartment, saddlebag, helmet (on demand), reflective vest, repairing toolkit with patches etc.
We also provide you with the appropriate equipment for your children :
baby seat, bike trailer or trailer bike depending on their age and size
.
Electric bikes are also available for adults (+1m55).
You can of course also bring your own bikes, in this case a reduction will be applied (see the Tarif tab)
Luggage
For this trip, bikes are equipped with
2 waterproof saddle bags
with a capacity of 10 to 20L each to transport your luggage. Do not forget to put your items in a soft travel bag to be able that you can roll it up in your saddle bags.
For more comfort, you can choose to
add luggage transport in your booking
:
(see rate in "Prices")
We transport your luggage from one accommodation to the next using a private vehicle.
Your luggage is directly delivered in your accommodation before you arrive.
We provide a saddlebag for the things you shall need during the day.(included in your bike rental)

Our word of advice :
as we know from experience, we strongly recommend you to avoid wearing a backpack during your cycling trip.
Travel documents
A cycling holiday is the best way to explore a region and discover its culture, landscapes and local traditions.
Your tour is self-guided to give you the freedom to ride at your own pace. You will be provided all the information you need to enjoy the itinerary and its points of interests.
Our documentation contains a very detailed description of the itinerary. No matter how you usually navigate, you will find your way thanks to our comprehensive guidance material including:
a roadbook with maps that we drew at the easiest scale to follow on a bike

a roadbook with step-by-step description giving the direction to follow at each intersection and highlighting the points of interest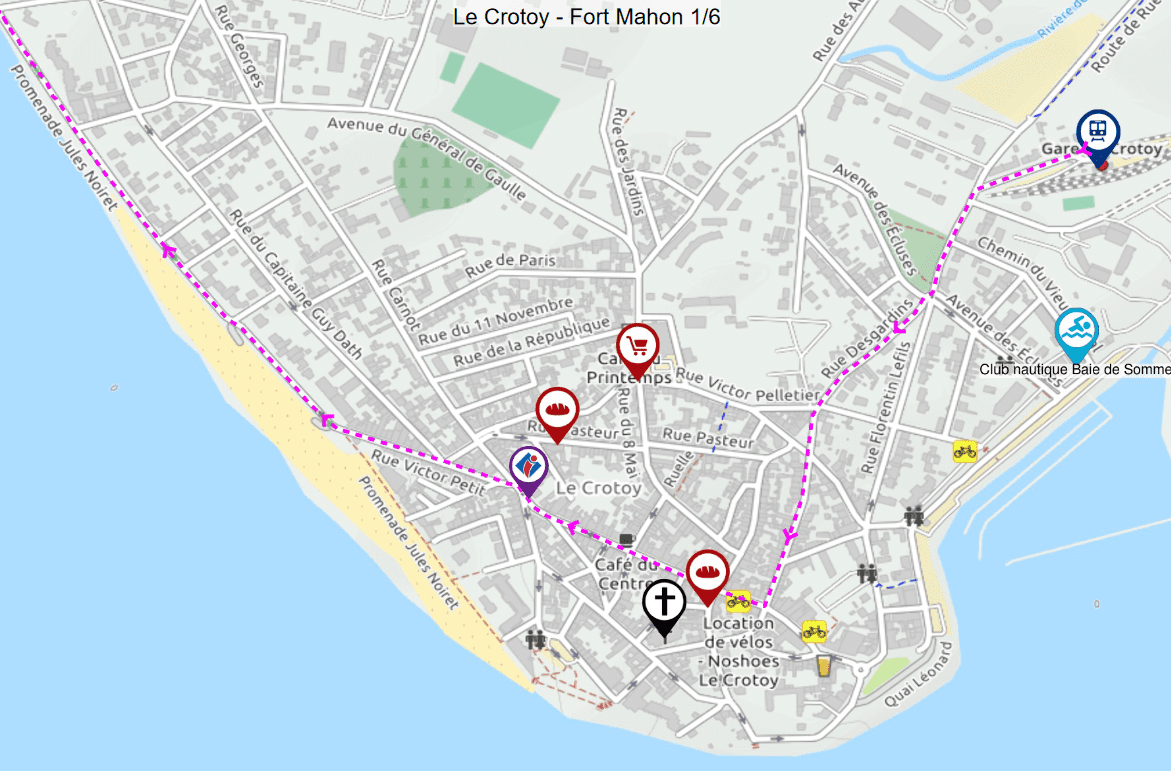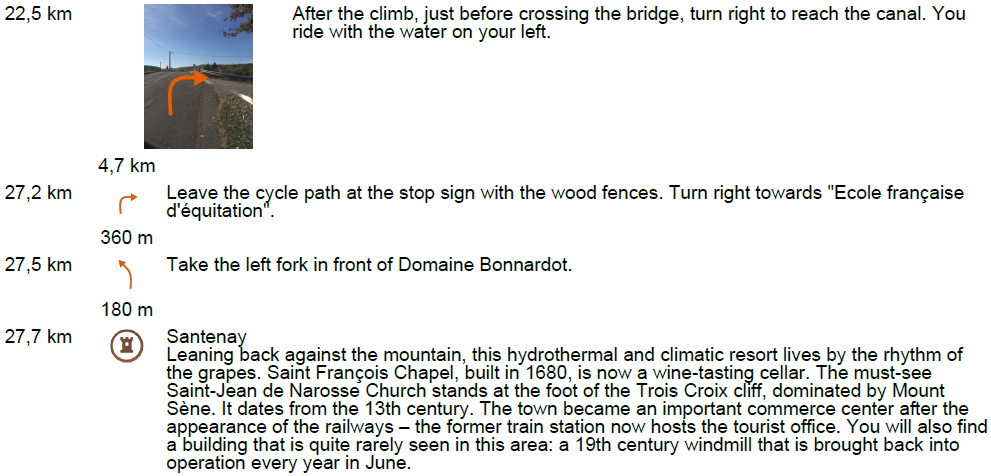 Example of a map and of a step-by-step description


For this short trip your travel documents will be sent electronically.
Our GPS App
For this trip, you can also use our smartphone app featuring GPS guidance (without extra fee).

You will find in the app all the information given in the map and step-by-step roadbooks. You will be located on the itinerary with the GPS device of your phone. The route and directions to follow will be both viewable on the screen of your phone and announced aloud. As you ride along the itinerary, you will be given information about visits, restaurants, services and useful alerts on the way.

-> You need to have a smartphone and download Le Velo Voyageur app on your Apple or Android store before the trip. All details concerning the downloading and the use of the application will be given after we have confirmed the booking and the balance is paid. Once the trip is downloaded, the GPS guidance can be used off-line.